I have to say, very few artists provide the entertainment value that AKA does on Twitter. If he really wants to get people talking, knows exactly what to do (He's got the formula on lockdown) and this weekend we saw another purposeful reminder of his buzzability on Twitter. The rapper fired his best friend and DJ in what was an unexpected move; he then proceeded to confirm the news on Twitter. (We had to take screenshots because you never know when these celebs might delete their tweets!) 

We're still waiting to hear exactly why his DJ was fired, but AKA, whose real name is Keanan Forbes was giving nothing away, instead stating "Fortunately, none of you deserve an explanation, all you need to know is that I need a new DJ" That's probably that, then.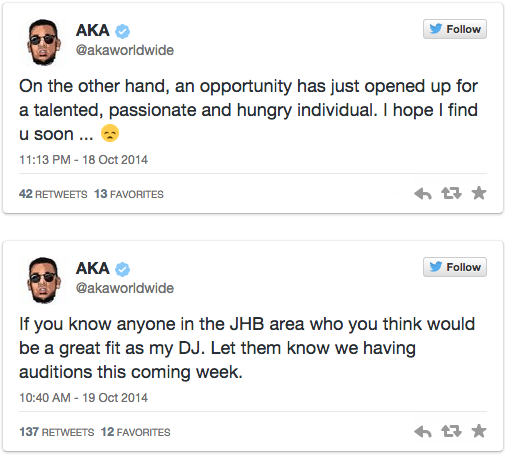 With social media going into overdrive following this announcement, AKA also mentioned that he will be holding auditions this week in his attempts to find a new DJ. As I write this, I can imagine the thousands of aspirational DJs around Johannesburg who will be on high alert; obviously opportunities like this don't come around every day. We've decided to compile a list of things we think any prospective AKA DJ needs to have in his/her repertoire in order to stand a chance of making it through the auditions. 
Knowledge of AKA's music... 
Well, you're probably thinking to yourself "Er, isn't this obvious?" but ask yourself, how many times have we seen people applying to jobs without knowing the company, or reading the job profile? Nah mate, leave that ignorance behind and get clued up on AKA's music beyond Jealousy and Congratulate. Know which songs get the crowds going, study his performances (As well as his excellent dynamic with fellow rapper and friend, Da L.E.S, and learn how to read his pauses, mannerisms and on-stage-traits. You're not here to be his fan, you're here to be his DJ, his backing track and a large element in his performances. 
An appreciation for Drake
AKA loves Drizzy Drake; If you need to ask yourself questions such as "Who sings this song?" when Started From The Bottom comes on, you're probably better off applying for a different job. 
Mad energy levels 
Land in Johannesburg, hit a club, get to bed at 3am, wake up at 5am, fly to Durban, perform, hit another club, get in the car, drive to PMB, perform again, hit the afterparty, flirt with some girls (or guys!), respond to tweets, practice your set, rehearse with AKA, nail your mistakes, get to bed, wake up, fly to Cape Town, handle a press conference ahead of another performance, perform, fly back to Johannesburg, hit the studio, nail that last song, go home, sleep. 
Wake up and do it all again. 
AKA's schedule is NOT easy and please don't expect life to be simple and peachy if you're his DJ. There will be some energy sapping weekends, some demanding days and nights where the only thing you miss more than your mommy is your bed. Best stock up on that Red Bull!
An Instagram account 
What's the point of travelling to some of the nicest places in the continent if you're not going to be able to brag about it? The entertainment life is too good not to show off to the haters, best make sure you have a decent smartphone and an Instagram account ready and waiting to post the latest snaps of whichever leg of the tour you're on. You're allowed to spoil and enjoy yourself too! 
Loyalty/Allegience 
I don't know AKA extremely well, having only met him for the first time last week, but one thing that really seems to matter to him is loyalty. If you're a part of his crew, you're basically his family. You need to show loyalty at all times and he'll show the same to you. Show the man love and you'll get it back ten fold. Show your true colors, be a loyal friend, colleague and co-artist, and being AKA's DJ will be the kind of longterm opportunity you want on your resume. 
This tweet below from the rapper suggests that AKA is looking for long term relationships, not just a quick fix. 

So there you have it, those are my tips for anyone who thinks they have what it takes to be AKA's next DJ. Good luck to you all and I hope to be interviewing one of you soon!