This week Kim Kardashian "blessed" her fans with yet another nude selfie, and the world, including South African rapper AKA, reacted. 
For Kim, it was mission accomplished, she got everyone talking about her just in time for her big Snapchat announcement. 
But for many, it created huge debate around Kim's right to do whatever she wants with her body, her love for attention, and the mindless sheep who swoon over everything she does. 
​READ: Time For Tea: Ugly shaming Thick Leeyonce
Mrs West even went as far as to write an "essay" after receiving flak from celebrities like Bette Milder, Chloe Moretz, and, of course, Piers Morgan, who always feels the need to add his two cents to just about every controversial topic – bless him. 
But Kim is not bothered by all the hate, because apparently she is empowering women and girls all over the world by inspiring them to love their bodies - flaws, and  all.
Well, probably fake butts, as well, or whatever other flaws you can fix with make-up, photoshop, and surgery.
But thanks for inspiring women to love themselves just the way they are, Kim. 
Erm, seriously, someone should tell Kim there is a difference between empowerment and being narcissistic. 
Kim K fans applauded her essay, which if you paid the subscription fee for her site, you would be lucky enough to have access to. Ah, the Kardashian money train never ends.
But Kim also got tons of hate from people who slammed her for using her body for fame, fortune, and attention. "Women have more to offer," numerous tweeps argued. 
READ: Time For Tea: When your mistress goes rogue
Amid all the debate, AKA added his voice to point out something very serious. Yes, people, AKA does have serious thoughts now and again. 
He questioned why plus-sized girls are applauded for being sexy, while "fit" girls are called slutty. Check out his tweets, which are in reverse chronological order.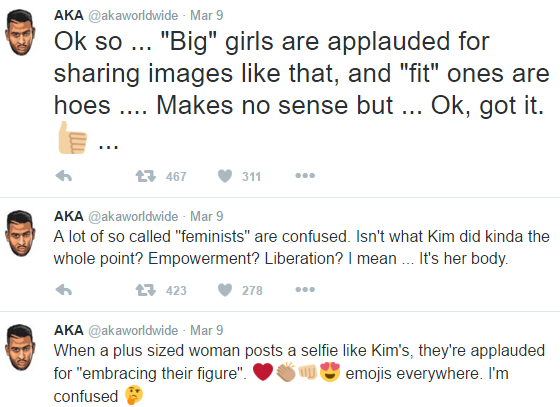 So, basically, the moral of AKA's tweets are, "you can't please everyone, so be pleased with yourself."
 
We, on the other hand, just don't care. Why are people so surprised that a woman who has built her entire brand on being sexy (and naked) is posting nude selfies? It's what keeps her multi-million-dollar brand going, and millions of fans love it! 
READ: Time For Tea: Cassper's week of tantrums
*Our weekly column, Time for Tea, takes a look at celebrity news making headlines. So grab yourself a cuppa, and join the conversation!
#TimeForTea
Image credit: Instagram/akawordlwide