Over the past week, it has been revealed that Jay-Z & Beyoncé have been quietly donating to black causes in the United States - such as the #BaltimoreRiots and #FergusonProtests, amongst others. Dream Hampton, a long-time friend to the Carter family went on a Twitter rant about how Hov and Bey have wired tens of thousands of dollars to help bail out people who have been arrested in the Baltimore riots over the death of Freddie Gray on 19 April 2015.
Ms Hampton also went on to tell about how the Carters have previously donated to several causes in the black community within minutes and often without request, but have asked that these donations be kept secret. As expected, the tweets were removed soon after being posted. But thank God for them screen shots because we have the series of tweets posted below.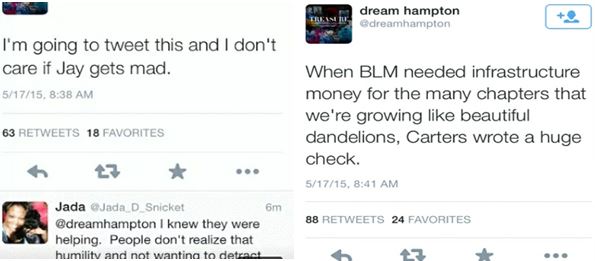 It gets even more interesting after Dream Hampton sent out the ranting tweets after she was sent a text urging her to keep her mouth shut: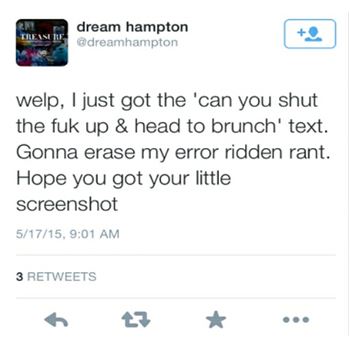 To those who have been paying meticulous attention to his career (like myself), this does not come as much of a surprise as in recent years Jay-Z has become more vocal about issues affecting the black community and how government agencies have been of little or no help. Back in 2006, on his comeback album 'Kingdom Come', Hov rapped on the Dr. Dre produced track 'Minority Report' dedicated to the victims of the Hurricane Katrina disaster,
 "Sure I ponied up a mil' but I didn't give my time
So in reality I didn't give a dime
Or damn, I just put my monies in the hands
Of the same people that left my people stranded
Nothin' but a bandit, left my folks abandoned
Damn, that money we gave was just a band-aid
Can't say we better off than we was before
In synopsis, this is my Minority Report…"
It seems Kanye's influence is rubbing off on Mr Carter. Where his music has mostly been about "Money, Cash, Hoes" (see what I did there?), it is apparent of late that Jay-Z has developed a semblance of consciousness: Black consciousness to be exact. And at a time when Iggy Azalea is winning the Billboard Award for "Best Rap Song" (seriously), Hov using his influence to bring light to the greater issues in modern society is something that is more than commendable.
Let's just hope the rest of those in the right position to help follow suit and help those in need too.