An awards show wouldn't be complete without the captivating, jaw-dropping and stomach tickling moments that will have a long-lasting effect on all of us who were either watching the #MMAs or were in attendance on Saturday night.
We have just come from quite an eventful weekend that saw many of our artists receiving accolades for the hard work they invested into their craft at the 2015 Metro FM Music Awards. And what better way to honour those awards then by highlighting our favourite moments we saw at the ceremony, whether the highlights were awkward, celebratory or just downright funny they sure do deserve a mention on our list of the most memorable moments from the 14th Annual Metro FM Awards.
My baby's name is none of your business
Let's kick it off with our first awkward moment of the night.  Pearl Modiadie and Metro FM award winner AKA had a brief butt-heading moment when AKA refused to reveal his unborn child's name after Pearl had asked if he could "exclusively" fill her in the child's name on live TV.  For a moment there the air was so thick you could even cut through it with a sharp knife. Clearly annoyed with each other's reaction Pearl went straight into her next link whilst AKA's straight face turned into a bright smile after DA Les "ShibabadaooShibabu"  
See here for Pearl's apology to AKA after her baby name enquiry.
Yes Lord Yes!
Then there was Gospel Singer, S'fiso Ncwane's moment when he received an award for Best Urban Gospel. You'd think that Sfiso would be the most elated one out of his entire team for winning this award, but nope, it was this anonymous man dressed in black who bounced about on stage screaming "YES" does anyone know who this man is?
Lol!!! The guy in the all black outfit. Yes Lord! Yes! Who is he? Sfiso Ncwane's manager? #MMA14 pic.twitter.com/uOoFtYQNTj

— IG ZAlebs (@Zalebs) February 28,
Also see: AKA and Cassper Nyovest are over the beef, here's why you should be too
A bouncy L'vovo 
Speaking of people bouncing about, who could forget a very bouncy L'vovo who bounced about on and off stage whenever a fellow Afrotainment artist won an award. When Duncan was announced as the winner of Best Remix Song for Tsiki Tsiki  L'vovo proved to us that being flexy has nothing to do with the weight of your body, clearly his gym sessions have been paying off. Go on with your bouncy self L'vovo
Lol! Bounce L'vovo bounce! #Afrotainment ##Duncan #MMA14 pic.twitter.com/W46R2vXbqs

— IG ZAlebs (@Zalebs) February 28, 2015
Making it rain with R100 notes
The awards could not have taken place at a better time of the month, month end baby! And people had everything to show for it, especially this audience member who thought it be best to show that he definitely got paid this weekend. Swing R200 our way buddy.
Wait...what??? Are those R100 notes on that guy? Kuminandi mos #MMA14 congrats Naima Kay pic.twitter.com/7mcSMgpOd6

— IG ZAlebs (@Zalebs) February 28, 2015
We didn't say it YOU did...
There were many outfits that viewers did not particularly like, Lerato Kganyago's rather interesting white outfit was one of those looks that ended up becoming the laughing stock of the night with some viewers sending us their comparisons of Kganyago's look. It was also cool to see Lerato laughing at the comparisons she was seeing on her timeline, proving to us that she actually doesn't take herself that seriously which is something we love to see.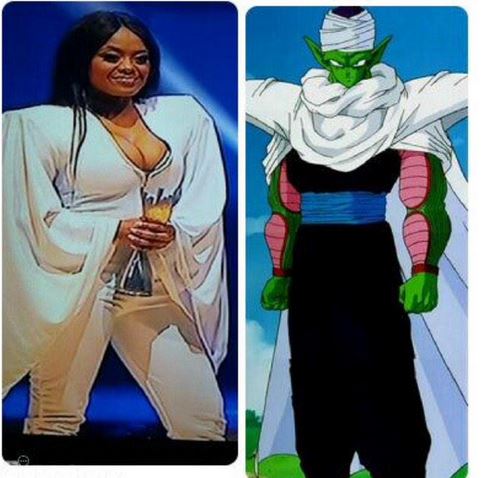 And then there was this Twitter comment below, haai guys the things you say, zero chill.