What an eventful weekend we've just had!  We rocked out at Axecess Jozi, were dressed in our best garments at J&B Met and rounded off the busy weekend with the launch of Big Brother Mzansi.  (How suave did Lungile Radu look last night ladies?)
ZAlebs started off our Saturday morning at the Axecess Jozi Press conference held at the trendy Elevate rooftop lounge, towering over the city of Johannesburg.  While we waited for the artists to arrive, our good friends at One-Eyed Jack didn't hold back their excellent hospitality, thanks guys!
Hip Hop trio Teargas was the first act to arrive, looking as cool as a cucumbers and anxiously awaiting their chance to tackle the Axecess Jozi stage.  One of the questions that ZAlebs asked the group was their about new business venture into film making:
"Well Cashtime Life has been given the opportunity to work with a certain channel to produce three short films that will be released by the end of this year.  It's a beautiful situation that we're in because we want to show the public that we're more than just rappers, we're well-rounded entertainers.  I'm also really excited for people to see the cinematic quality of these films." Said K.O.
Comedic duo, A.K.A and DA Les also made an appearance, we say comedic because they were quite comical at the press conference cracking jokes and poking fun at some of us media folks (It was all love though) Both rappers expressed excitement for the year ahead, especially with the release of their new albums to anticipate.
The man of the moment, Big Sean eventually made an appearance sporting some rather shiny jewellery, we must say he's a little scrawnier than we thought. Sean arrived a bit late but we appreciated his late-apology and sheer excitement to finally be in the country.  We even caught a glimpse of his mom at the venue (Ncaaw!) How cute that he brought his whole family to the "mother land".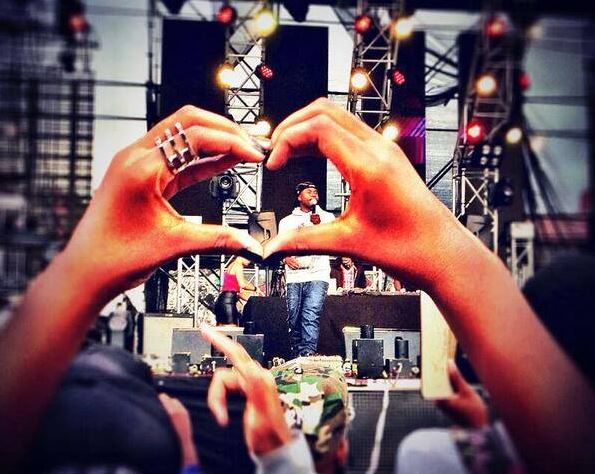 Credit: (Facebook/AXE South Africa)
It was then time for the main event, and even though the weather threatened to rain MaryFitzgerald Square was lively, filled with the trendiest cool-kids you could ever find in one place (Great Dane and Kitchener's are exceptions of course.)  DJ Dimples and Khenzero got the party started, ramping up the atmosphere to the maximum. Our favourite performance of the day was from Reason who also visited the ZAlebs Headquarters for a Fifa 14 match on the XBOX 360.  Reason tore the house down and proved once again why he's one of the top rappers on the local hip hop circuit these days. He also entertained the crowd with old kwaito songs, and gave us a taste of his freestyle talents.
Khuli Chana and AKA never disappoint and this occasion was no different. Being the crowd favourites they murdered their performances with hits like Jealousy and Tswakstikem. The Motswako boy Khuli Chana stepped in after Reason's performance and gave an outstanding performance. He also brought along his former group members from Morafe . Khuli also sent a rather hostile message to the police as he hollared "F*** the police" at the end of his performance- a moment that took us by surprise. Meanwhile, Axecess VIP winners had the opportunity to meet Big Sean, who posed for photos and was overwhelmed by the positive response he received from his fans. AKA brought his Hip Hop brethren,  Da.L.E.S and Maggz, onto the stage with him. They gave an outstanding performance - seeing AKA and Da L.E.S dance on stage was the cherry on top.
It began to pour but no rain could stop the energy that was buzzing through Newtown as Naya Rivera's fiancé hit  the stage singing our all-time favourite Big Sean track Guap.  Sean had brought along his mom to the concert and he asked his mom to come on stage during his performance. He also paid tribute to the late Tata Nelson Mandela.
"We want to thank all the fans who came out to Newtown with such energy to party with us.  Not only did Big Sean nail it, but I am really proud of our South African Hip Hop artists for showing off the talent we have in this country!" said Vincent Viviers, brand manager for AXE South Africa.
The Gallery of the event will be coming later today, look out for it in our Photo Section!