Since the news of their collaboration broke, there has been plenty of chatter around what this moment means for South African music. Much of it was congratulatory (it's not every day that any artist collaborates with Beyonce let alone our own) but a portion of it sparked discussion around international collaborations and the impact they have on South African music in the long term.
I had the opportunity to speak to
Busiswa
this week to pick her brain on the conversational hot topics, as well as to extend my genuine praise to one of Mzansi's hardest working artists on a massive achievement.
It was an almost surreal moment when I heard her voice replying to my questions via voice note and we got straight into our conversation when I asked about her longstanding relationship with her fellow Beyonce collaborator -
Moonchild Sanelly.
"Moonchild and I have been singing together since 2008. We know each other's struggles on a personal level. We know each other's hopes and dreams and I recognize what this means for her. We've both lost our mothers, we've both had a long journey. It feels like God was putting us through the most so that we could achieve the most so that we can be a testimony to other females in the music industry so that they know: it's all hard work. It's all commitment."
Without wasting breath on small talk, we got into the meat and bones of our conversation. Critics have pointed out how we (South African music listeners) never recognize our own talents until they are validated by internationals. I wanted to know her thoughts on this contentious topic, especially as she was coming off the back of her own big international collaboration:
"I don't think it's a fair criticism because, at the end of the day, numbers don't lie. In order to collaborate with bigger artists is not only a form of validation but it's a numbers game as well and the platforms that it offers you is crazy. Since our collabo [with Beyonce] came out, I have gained 20,000 followers, my album resurfaced on streaming platforms so this gave me more a lot more eyeballs and a lot more listeners. I don't think it's fair to say that we want validation from internationals - I was getting love and recognition from South Africa already. I have the backing of my country but we are taking the movement to a higher level."


Okay fine. The international collaborations are great, but how do (or how should) artists keep the momentum going for musicians securing great opportunities such as these? For instance, Ambitiouz Entertainment artist,
Saudi
, suggested that the
Black Panther
collaboration didn't do much for his career in an interview this week. To my surprise, Busiswa had a lot of constructive suggestions for how artists in her position could make the most of this momentum:
"To keep the momentum going the most important thing is to be releasing work all the time. More collabos with internationals, build relationships so you can do other projects with other international acts. Look at someone like Wizkid, he has kept the work coming and that's how we keep the momentum going."


Alright, the hard questions were out of the way and I was content with the insight and intellect that Busiswa had displayed in her responses. After securing the ideal bucket-list collaboration, I wanted to know if there was any other artist that she really wanted to work with before she called an end to her career:
"There's a lot of other artists I'd like to work with, especially Black Coffee! It's strange that I have worked with Beyonce before working out with Black Coffee but I think now is the time to reach out and make something happen. I also think now is the time to reach out to some of my faves including Lizzo, Rihanna, Koffee from Jamaica, Janelle Monae - even in South Africa, I want to work with Black Motion, Shekhinah, and of course, I want in on the amapiano movement that is taking over. I still have a lot of plans before my career is over!"
I've been bumping Summer Life on Spotify for the last few months, and while everyone is talking about new albums, I haven't heard a peep from Busiswa on her plans for a new record. As it turns out, she's got something up her sleeve - but not quite what I was imagining or hoping for!
"I'm releasing the deluxe version of Summer Life in September; so I'm going to add some new tracks, big collaborations too. I am in talks with DJ Tunez, I am collaborating with Patoranking, I still want to collaborate with Yemi Alade and Niniola, all of my favorite artists."


Before we ended our conversation with Busiswa, I had to squeeze in one last groupie question. Is collaborating with Beyonce as amazing, as delightful, as mindblowing as we've all ever imagined?
"Collaborating with Beyonce is definitely as amazing as anyone can imagine. I had several moments where I was just shedding a tear when I was just thinking of a few of the things I was experiencing. To be a part of it makes me feel like my dreams are real. I haven't met her yet, but I think I will and I think some magical moments are about to happen throughout 2019. I look forward to every experience and I just hope to be present and enjoy the moment.
I'm even making little videos for my son and I hope he can watch them one day and understand the joy that I experienced in this whole period."
If you haven't already heard it, here is
My Power
, the emphatic track on which Beyonce features Busiswa, Moonchild Sanelly, and Tierra Whack.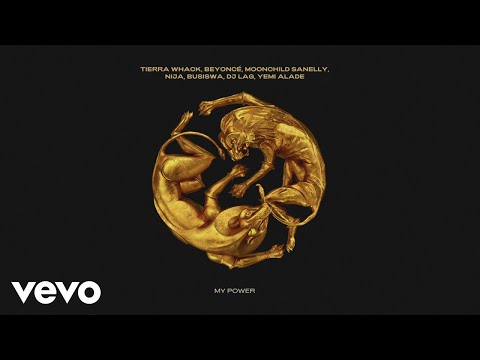 READ MORE:

Love your curves with ThickLeeyonce!
Stock up with the basics!
Ntsiki comes for Beyonce!
main image credit: AfroPunk