After a difficult month in
Mzansi, Carol Ofor
i lightened our October moods when she revealed that she was pregnant with her second baby. And now she has decided to trust
ZAlebs
with the biggest news of November: the gender reveal of Baby #2!
We made our way to
Carol's super-private
and super-exclusive gender reveal party which was attended by the radio presenter's close friends and family last week. It was an intimate affair, filled with colourful gifts (we took advantage of those pampers specials at Checkers!), delightful mocktails and a cake which was about to reveal all the answers.
Carol already has a son, four-year-old Sena
, and all of her guests were curious to see if she was about to add another boy to the family, or if it was time to sprinkle some girl power on the Ofori clan. People placed bets and we distinctly recall someone promising to tattoo the baby's name on their body if they guessed the gender correctly -- we'll need to follow up on that!
The time arrived for Carol to reveal what we were all speculating and she did so with in the form of a cake. At this point in time nobody in the room, including the presenter herself and her husband Greg, knew the gender. The caterer spun the cake around and... you can watch the video to see how it all panned out: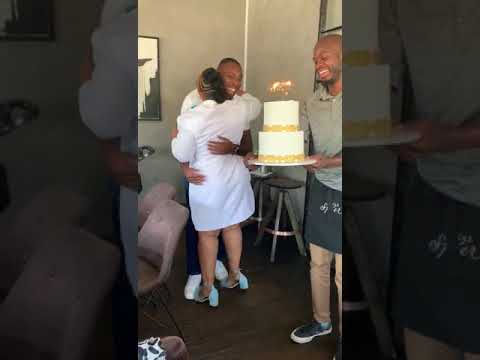 It's a girl!


We wasted no time in speaking to the Radio 2000 presenter to find out how she felt about welcoming a baby girl into the world in the next few months.
"I'm delighted! I had initially thought I would be a mom to a soccer team of boys - but after meeting my beautiful niece Kitso - I knew I wanted a baby girl. I am looking forward to our pamper days and laughs while watching the sun set. "
She also spoke about having her very own pigeon pair - a boy and a girl in the same family:
"Yes - the ultimate pigeon pair. Best part is they will be our pigeon pair. The gap is pretty big, and my son is super excited to be a big brother. He has told us all he is no longer Sena - his name is now "brother". So, he is ready to change nappies and feed baby girl."
I asked if they had already chosen a name for their baby, wondering if they'd be interested in naming her Tinashe which is both a powerful name and a unisex fit.
"Tinashe is a stunning name - but this little girl will have a beautiful Ghanaian name that we have chosen. Took us a while to decide but I think it's locked down."
With Sena taking his role as a brother so seriously, I asked Carol what advice she wanted to give him:
"Will tell him to love his sister and visa versa. Also encourage him to be best friends with her and to pray together. I would love their bond to be stronger than the bond I have with my sister. Sibling love is so special. If you got strong sibling love - the world is a better place. "
Last but not least, we wanted to find out if she was willing to give us a hint as to when she can expect her baby girl's arrival. She said:
"Well let's just say any time before Valentine's Day my #PrincessO will be born - yes that will be her hashtag - #PrincessO. All I ask is she comes in Feb and not my birthday month of Jan - that leaves you with zero gifts and rain checks for days. Feb is fab because she will share a bday month with her daddy too. So #PrincessO Feb it is."
Well there you have it ZAlebs fam; you need to start saving up for your baby presents in February!
Read Next:
Carol Ofori praises her "best friend" husband
Image Credit: Provided by Sheila Afari PR