Do you ever get caught up in the hype of the moment and end up saying something you don't 100% mean and then have to apologise to a person or multiple people for your words? That's what Cassper Nyovest is currently going through. The outspoken rapper managed to trend for a good 72 hours thanks to his diss track, entitled Beef. Today, however, he's apologised to one of the rappers he singled out, K.O. 
If you haven't already heard the track, Cassper goes hard and name drops loads of rappers including K.O. himself, about whom Cassper says "I'm cool with number two coz I'm richer than number one". Cassper was referring to MTV Base's decision to award K.O. with the title of "Best rapper in South Africa" while Cassper himself was named as the number two rapper. 
Clearly he regretted his words because he posted the following message onto his Facebook timeline: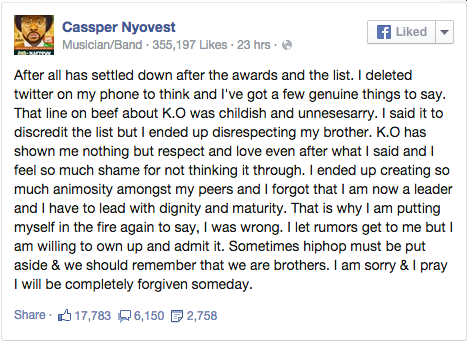 Well, I have to say that was rather unexpected! But good on you Mr Nyovest for being humble enough to take back your lyrics.