After countless
boxing matches
that were announced and then canceled, the one boxing match that has come to pass, has the internet in a frenzy. Cassper Nyovest will be battling it out in the ring with his number 1 hater Slik Talk, and it will be a match everyone talks about on December 22.
Read more:
Cassper Promises Slik Talk R200K If He Knocks Him Out
After a few back and forths from both
Cassper and Slik Talk
, the fight almost became another one of his failed matches. People were starting to get convinced that Cassper was pulling another PR stunt to promote his
upcoming projects.
Proving that he is no punk,
Slik Talk accepted the fighting offer
which at first was R100 000 but now he will be getting an extra R200 000 if he manages to win the fight.
Announcing the date, where the fight can be watched and revealed the epic poster, Cassper said, "So it's set in stone. Not the fight I wanted to start with but at least dude had the balls to back his words up unlike all the guys who ran their mouth and then ran away. I have a little bit of respect for him for taking the fight but I am going to knock him out! #FameVsClout."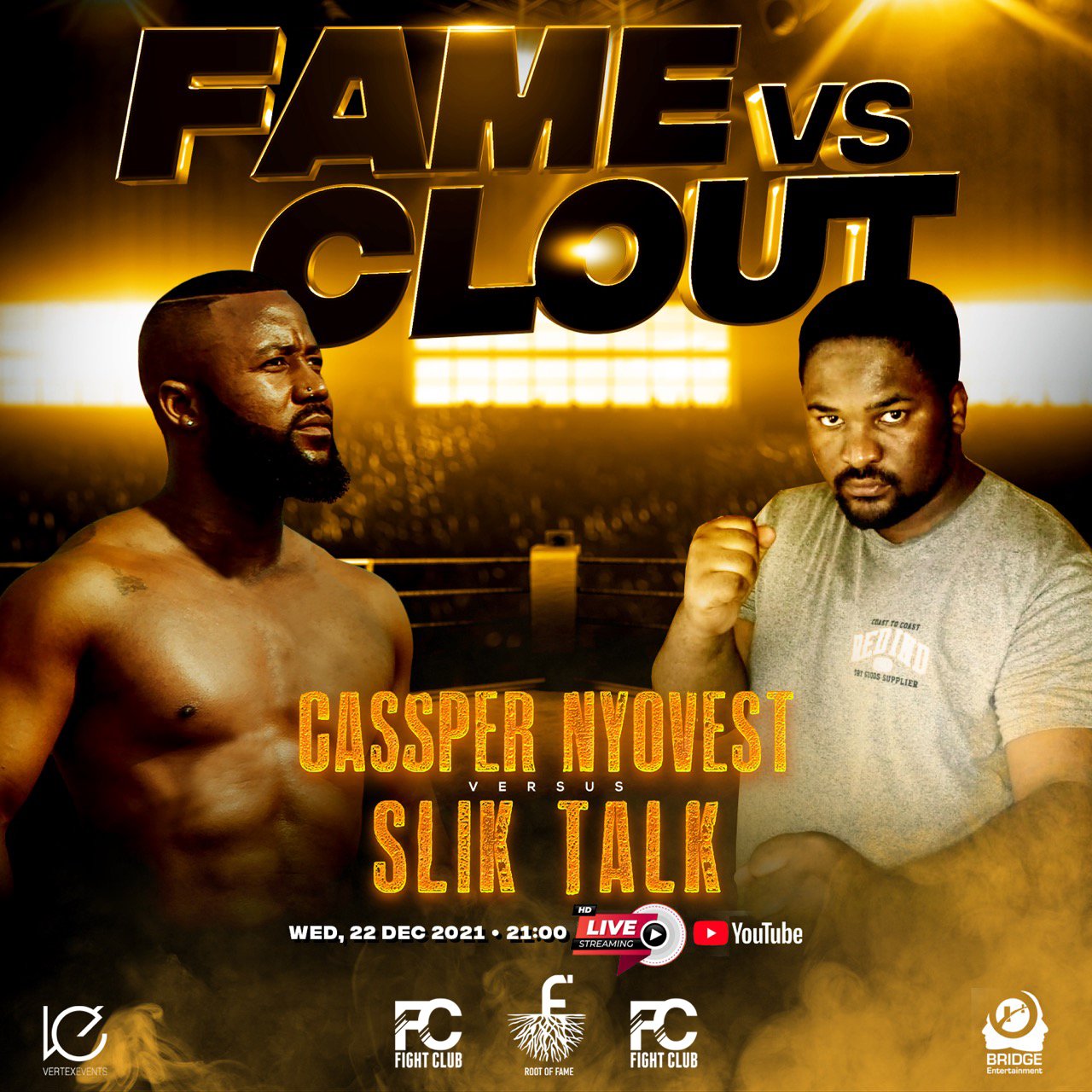 The match can be viewed live on YouTube on December 22 at 21:00. The fight will take place in December 22 and they will fight for 6 rounds which are 3 minutes each. If
Slik
lasts at least 3 rounds, he wins R100 000, but if he knocks Cassper out after 6 rounds, he takes an extra R100 000 home!
Cassper
was also ready to throw in the towel, but when Slik Talk took aim at a heartbroken Amanda du-Pont and mentioned Cassper, he boiled up. "They can get all the fame. I just wanna see Slik Talk in the ring for a few rounds. This one is for everyone he has disrespected. All the women, all the celebs. I am going to knock his head off. They can get all the clout they want. He is gonna pay a big prize in the ring.
"This dude keeps giving me more and more reason to knock his head off. Such a disgusting human being. O tlo nyela Slik talk, I swear!!! Can't wait to see you in the ring you ugly piece of shit!!! You signed the contract, I hope you don't run now!!!"
Slik Talk was also having cold feet by making a few changes on his team, by hiring and firing Nota Baloyi as his manager. "I made a quick decision. Nota is out the f*****g fight. I decided he's not going to be necessary for this fight. I think he's gonna make things about himself and that's what we don't need.
"We need the fight to happen. Communications will be done by me directly. Nota, I'm sorry you had to find out like this but you're fired," he announced.
He had to take aim at
Cassper
as well, "As I am talking to Cassper Nyovest's team I realised mid-conversation that I was dealing with some bum a** drop-outs," he said.
This whole boxing match idea came from watching American stars boxing for cash and said Africa has the opportunity to make money but they losing out. "Celebrity boxing is sooo big in the states, I think we could make decent money in Africa with it too. It could also boost boxing on the continent. Who do you think would make a great boxing fight?" he tweeted.
"#CelebrityBoxing could be such a Big thing in SA too. We just need the right Match Ups and we could entertain people in a new manner. Not only that , we would also give the boxing sport the boost it needs. We have some elite boxers but they are getting paid peanuts."
Read next:
Cassper Promises To Raise The Bar High At Billiato's Launch

Image credit: ANMG