Christopher has been experimenting with his hair a lot lately, but thank goodness he's over the blonde phase! It made him look a bit too radical for our liking. Anyways, CB is back with a new hairdo. Just yesterday he posted an Instagram picture of h more texturized German cut, with indlela, (that parting line in his hair) Black folk will know what we're on about.
We couldn't help but wonder which hair relaxing product he used on his greasy, new look, so we asked some of you guys on Facebook which product you think he used, and let's just say your responses had us snickering all afternoon. The one comment that had us rolling on the froor was the Step One relaxer comment, can you guys imagine Chris using Step One?! 
For those who are not sure what Step One is, its like the entry level relaxer product for black folk with coarse hair.  After Step One, one can then graduate to your more intermediate products such as Soft 'n Free and Black Like Me, depending on how much heat your scalp can withstand.
We're guessing Chrissy knew that the media would have a field day with this one so he latched onto the hair product jokes before any of us could.  At least Chris doesn't take himself that seriously.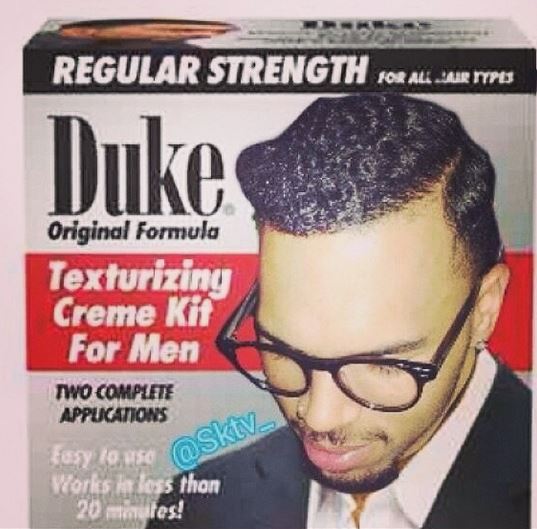 We just hope Chris Brown hasn't started a trend with this 1950's inspired look. And look, we're strong believers of vintage trends but this hairstyle is not and will never be will be it!