According to the Daily Sun, DJ Cleo – whose real name is Cleopas Monyepao – has been training with the senior football team of the University of Pretoria, AmaTuks, after attempts to make it onto the team for Bidvest Wits didn't work out.
And it seems that initial reservations about the possibility of success for someone who only embarks on a football career while already in their 30s seems to be ringing true.
The publication has quoted an AmaTuks insider who reportedly said: "We've been training with him, and he is in good condition. But I wonder what will happen to him because we have a young team. As a man of his age, I don't think he will fit into the club structure. Does he want to become a professional goalkeeper or is he pulling one of his stunts?"
Comments by those who have seen the DJ play are favourable, but it seems that he's having trouble getting people to take him seriously.
"At first I thought he came here to help cheerleaders with their dance moves. I wish Steve Barker (AmaTuks coach) would give him a chance to play in our PSL matches," said another source.
 The Daily Sun further received confirmation from the University's media officer, Pearl Mosoane, who said the DJ's been playing with AmaTuks, but apparently only to stay in shape.
"We can confirm that DJ Cleo is training with us, just to keep fit," she told the publication.
"He asked the coach, Steve Barker, if he can train with the goalkeepers. The coach said it's up to the goalkeeper coach to decide. And the goalkeeper coach agreed."
The DJ and music producer early in 2014 confirmed that he was putting his music career on hold to become a professional footballer. He has said that he always dreamed about being a professional football player and has played before, progressing as far as under-15 Kaizer Chiefs.
After Daily Sun had published the story, DJ Cleo didn't seem too fazed about the rumours surrounding his alleged dwindling soccer career. By the looks of things he's still going strong on the soccer field and is showing no signs of stopping.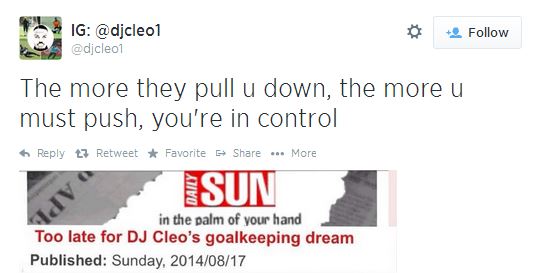 Teamtalk
​Credit Image: Twitter/DJCleo1