In July of 2010, while we were all watching the 2010 World Cup on South African soil, a little ginger teenager was recording tracks in his basement, playing gigs to crowds who pronounced his name wrong and doing all he can to get his name out there. Little did the then 19 year old Ed Sheeran know that a year later his song, A-Team would explode and the greatest journey of his life would begin. Three years, a grammy nomination and a Taylor Swift duet later, the world has its eyes on Ed Sheeran who, this week, released the followup to his critically acclaimed debut album, +. The new album's title is equally simple- x (or Multiply.) 
Being a massive Ed Sheeran fan myself, I couldn't wait to get my hands on this record and give it a few listens (By a few, I mean 'an obscene amount that I can't bring myself to admit to people for fear of being judged'). If you've been following Ed's progress in the last few months, you'll know that Sing was released a few months ago the lead single from X. Since then we've been given snippets and teasers, including the incredible acoustic performance of One in the video below. 
X released on the 21st of June 2014 and by the 23rd I had my hands on it (I know, "not a true fan," bla bla bla) and my biggest fear (as with a lot of sequels) was that Ed would attempt to recreate the success of + by following a similar/identical pattern. In some tracks, he couldn't resist the urge but I'm pleased to say that X is a completely different album. I've decided to give you a track-by-track review because, well, quite frankly because I can. 
One 
How cliche to name the first track of your album One! Jokes aside, I'd already become familiar with the track thanks to the acoustic performance above and I think the studio version is the perfect album opener for Ed Sheeran fans. Ed boasts improved guitar skills while still serenading listeners with vocals we've come to expect from the British singer-songwriter. We're not listening to the same Ed Sheeran as on + though and in One we hear the first of the newest vocal elements that he's keen to show off throughout the album- his newfound love for the falsetto. Thankfully he's not awful when reaching those delicate high notes. Not a bad start to the album!
I'm a Mess
The mellow, romantic One is succeeded by the faster paced, I'm a Mess. The track kicks off with an inviting palm muted verse before the chorus kicks in; at this point I am really feeling as if x could be an excellent album. Ed's never hidden his love-hate relationship with alcohol and in I'm a Mess there's no doubt what he's getting at lyrically. It's a solid track, although the chorus does feel a bit empty (It's saved by his amazing vocals and an excellent bridge that follows). Can you imagine how romantic drunk-texts from Ed Sheeran must be? 
Sing
My significant other doesn't get a lot wrong in life. She accurately predicts sports scores, she's got impeccable taste in music (She's dating me, what would you expect?) and when cooking she blends flavors perfectly every time. When she told me she didn't like the Pharrell Williams produced single, Sing I looked her and thought "Well, she had to be wrong sometime". 
It may be all over the radio stations right now, but I can't get enough of the track, simple as it may be. Those falsetto riffs combined with the strumming in the pre-chorus will be stuck in your head for days! 
Don't
Things take a turn towards an urban-eclectic sound on the bass-heavy, Don't. There was the fear that Ed would 'Sell out' on x as he attempted to appease the masses but songs like Don't are a great reminder that such fears were never going to be realised. The lyrics - which tell the tale of a woman who stabbed his back and slept with someone he clearly hates- serve as a reminder that Ed Sheeran is a singer-songwriter first, and no amount of fame is going to change that. 
Nina 
The intro to this song sounds a bit like the piano riff at the beginning of DJ Kent and The Arrows' track, Spin my Head Around. I have to say, I've given Nina a few listens and I think this is one of the flatter tracks on x. Songs named after girls tend to disappoint me nowadays in any case. 
Photograph
No, it's not a cover of Nickelback's song of the same title! Photograph serves as a mellow respite to the emotionally-heavy tracks that precede it. Incidentally, this is also the first track (so far) that makes me think of + and when I listen to Photograph with the lyrics sheet in front of me I can see why the song wouldn't be out of place if inserted on his debut album's track-list. That's not a criticism however, and I think the only reason Photograph isn't more memorable is because there are a lot of standout tracks on x. It's a decent track, but no more. 
Bloodstream
The slightly darker and more mature Ed Sheeran makes another appearance on the excellent Bloodstream. It might not have stood out upon first listen, but the guitar-picked verses and chorus complement Ed's vocals (Which are relatively modest on the this track) and create one of the finer tracks on the album. Sometimes less is more, and Bloodstream is testament to that. 
Tenerife Sea
Clearly Ed Sheeran sees Tenerife a little differently to most British people who choose the Spanish island as a popular holiday (read, drinking!) destination. I'd have expected an ode to the Tenerife Sea to be about about one big drinking weekend. Instead Ed turns the 8th track of the album into a folk-meets-pop ballad dedicated to one of his many lovers. The only thing that might have put me off this track is the amount of influence I can spot without looking too hard. There's a bit of Avril's I'm With You in the verse;  Passenger-esque vocals can be heard in the pre-chorus. Thankfully the song has enough of 'Ed' to carry it through.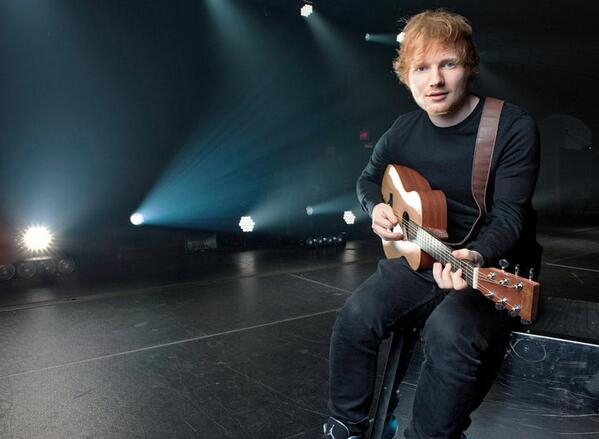 ​
Runaway
Do the lyrics in this track not remind you of the Ludacris song (featuring Mary Blige) of the same title? Anyways, the most memorable part of this song is the enchanting bridge in the middle. I'm not the biggest fan if I'm honest. 
The Man
Ed Sheeran rapping? If you've seen enough of his live shows you'll know that he's not too shy to spit a verse and he saves his hidden talent for arguably the best song on the album, The Man. This vocalised letter-to-my-ex is stunning, boasting a mellow electric guitar in the background and some heart-piercing lyrics. "I got advice from my dad and he told me that family/ Is all I'll ever have and need/ I guess I'm unaware of it/ Success is nothing when you have no one there to share it with"- that's probably my favourite passage of the entire album. 
Thinking Out Loud
This soulful ballad holds up the strong ending that Ed is clearly building up to on x. He must have pictured his listeners bawling their eyes out while listening to The Man and decided "I need a pick me up, fast!" That's the only explanation for the placement of Thinking Out Loud. An X-Factor UK judge once said "Ballads are a great judge of vocal talent. You can't hide when you're singing a ballad". That sentiment rings truest on the penultimate track of this excellent album. Ed loves a growl, but the harmonies, the right blend of high and low notes and the cliche-but-wonderful "oohs" in the background make this one of the album's most stunning vocal performances. Am I the only one who hears a bit of Westlife influence in the backing track? 
Afire Love
He ended + with the 8-minute long Give Me Love/The Parting Glass and I was expecting something similar when I saw that Afire Love was the final track on x. I mentioned earlier that I feared he'd try to recreate the glories of the previous album, and while the temptation seems to have crept into this track I'm glad that he ended the album with Afire Love. It's probably the most perfect song on the album. A transcendent balance of melody, rhythm, vocals and lyrics. It's a touching one for anybody who's ever had a family member suffer from Alzheimer's Disease too. You just can't help but join in when he sings "...rise from their seats to sing- Hallelujah!" towards the end of the track. 
Ed Sheeran's x is a wonderful ensemble that is made all the more special by some of the stronger songs on the record. We were watching and waiting to see what his next move would be and if he could live up to the hype on his second album. In all honesty, I don't think he'll only live up to the hype- I think we're watching a man who will outlive his hype and prove himself to be one of our generation's most successful singer-songwriters. 
Get your hands on the deluxe version of x so you can hear my favourite track of the album- Take it Back- another track on which Sheeran slays listeners with his rapping skills. 
Rating: 
8.5/10 (Because a 10/10 would be biased!)