Emtee
is currently in the middle of a huge legal battle with his label, Ambitiouz Entertainment. Emtee, one of the biggest and oldest acts on the Ambitiouz roster, is the entertainment company's latest artist to expose them for mistreatment and shady business practices. The story is still developing but things aren't looking good for the rapper.
The SA hip-hop community has spoken out in support of Emtee following reports of him now battling to keep his home for trying to terminate his contract.
Reason
recently tweeted to rally support for the rapper during this hard time. But it doesn't seem like everyone is on his side.
Scoop Makhathini
is a prominent voice on local hip-hop media and has called out Emtee for being naive in the way he joined Ambitiouz Entertainment. The presenter says that as much as he empathizes, the rapper got himself into the situation.
Speaking on his new YouTube show, POPcast, Scoop shared his very direct opinion on the Emtee vs Ambitiouz saga. Sitting with Vigi,
DJ Speedsta
and
DJ Cosmo
, they unpacked the whole story.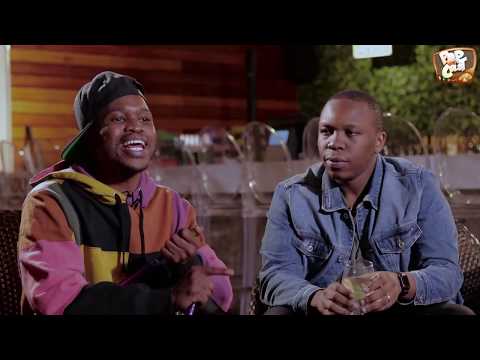 "Mina dog, I have been talking about the Mabala and Ambitiouz thing" began Scoop. He believes that a lot of new local rappers, including Emtee, have found themselves in these situations from not doing their research!
Scoop pointed out that there are many past examples in local and global music industries that you can learn from regarding contract disputes. Plenty of rappers in America and even artists here have come public to educate aspiring musicians of the dangers of not educating yourself on or finding someone to explain legal terms to you. "To still sign a contract without reading it properly, I really don't know what you were thinking!" stated Scoop.
Scoop also made it a point to remind us that karma never skips a day! "It matters that you stay a good person when you were on top... When you are on top and decide to be a bad person, it will come back to you and unfortunately when Emtee was on top he wasn't a nice person". Speedsta co-signed this point by sharing that Emtee was only nice to people "at a certain level".
As the conversation continues, Scoop also points out that Emtee shouldn't act surprised. He is not the first artist to make a very
dramatic exit from Ambitiouz Entertainment.
B3nchmarq,
Fifi Cooper
, Priddy Ugly and Amanda Black have all left Ambitiouz practically empty handed in the past few years. The signs were there!
"When A-Reece left... Because Ambitiouz was funding Emtee, he decided to carry the cross for Ambitiouz and ridicule A-Reece! Now A-Reece is winning on his own moves!.. That's gotta hurt!" said Scoop.
At the end of the episode, though, they got down to the real problem - the people who run Ambitiouz Entertainment and companies like it. "For these old men who have money and decide to be like "F*ck these kids", that's wrong!... For black men to enslave young black talented minds forever? You n*ggas are gonna get yours!" exclaimed Scoop.
Clearly there is a gap between artists' and executives at entertainment companies. They take advantage of young black talent as they tend to be less versed in what business practices to expect in the music industry.
Emtee's situation is yet another warning for young talent. Gone are the days when you could blame ignorance. All the information you need is out there and in order to protect yourself, you need to learn it. Be sure to empower yourself with as much information as you can about the business of the entertainment industry while chasing your dreams!
READ MORE:

Did Ambitiouz bail out Emtee?
Scoop can't handle a breakup tho
Get your winter drip like Riky Rick

main image credit: Scoop Makhatini Instagram