What on earth is going on with these American celebrities? Last week the Real Wives of Atlanta were dragging each other by the weave and now Floyd 'Money' Mayweather our new generation Mike Tyson, has gone on an Instagram rant, attacking his ex-girlfriend now Nelly's new squeeze – Shantel Jackson.
We don't know this Shantel girl but one thing we do know is that Floyd does not like her at all! Especially after he accused her in front of the whole world of not only having plastic surgery with his money but also killing their twin babies?! *Gasp* that was really below the belt Floyd.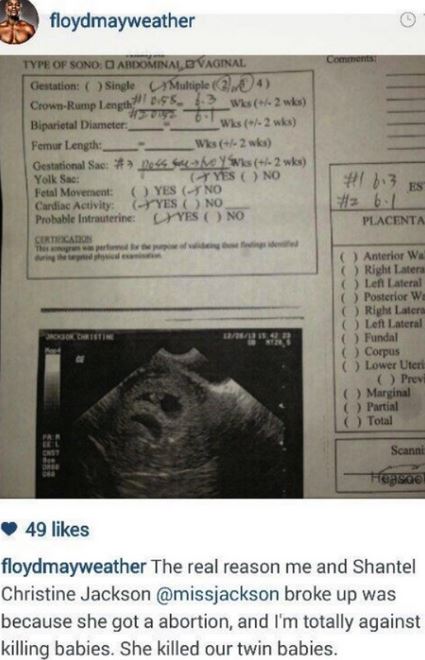 Besides this rather cringing revalation, why is there forty-nine likes to this post?
Rapper Nelly kept it a bit classy by posting this simple tweet to Mayweathers short man syndrome stint.

BET's 106 & Park presenter and rapper Bow Wow also tried to intervene but as always had to sneak in how much money he paid for the tickets to see Mayweather fight.  We get it Bow Wow you're rich.

Usually when guys expose their ex-girlfriends like this it means there's still some feelings left there. Shame Floyd might be still in love and understandibly hurt by his abortion allegations. Keep your head up Floyd but you didn't have to take it there though.