There truly is never a dull day on these Mzansi Twitter streets, even on a random Monday evening.
If it's not politics trending, it's probably the latest story on television or a celebrity who has thrown shade at a fellow celeb.
However, this time around it was South African designer, Gavin Rajah, who found himself the talk of the town when he was yet again accused of stealing someone else's designs.
An American designer by the name of Chelsea Liu has accused Gavin of copying her design. The American designer expressed her dismay in a recent Facebook post, claiming that Gavin stole her pictures and her designs for an interview.
After her Facebook status finally made it's way to South African Twitter shores, all hell broke loose!
Tweeps then began to make light of the allegations and started comparing Gavin to the Bold and the Beautiful's fictional character, Sally Spectra.
Just when i think twitter is not funny anymore, you guys start calling Gavin "Sally Spectra"😅. I love South Africa.

— bulumko (@BulumkoLusu) April 18, 2016
Sally was notorious for stealing designs from her rivals - the renowned Forrester family.
The Sally Spectra comparison won my evening. It's so accurate

— Queen of Sheba (@JustVuyi) April 18, 2016
Sally Spectra 😂😂😂 pic.twitter.com/7JQKHyaRLe

— PhathuMakwarela (@PhathuMakwarela) April 18, 2016
We have to admit, when we saw those tweets were also like...
Some couldn't believe Gavin Rajah got compared to Sally. The comparison made them so weak.
Ya'll called Gavin Rajah, Sally Spectra... I so weak... pic.twitter.com/CcopH8wEZ3

— Busie Mabuza (@busie13) April 18, 2016
However, it was all fun and games until Chelsea revealed on her Facebook page that the local designer and his lawyers had threatened to get in contact with US immigration officials if she didn't remove the Facebook post.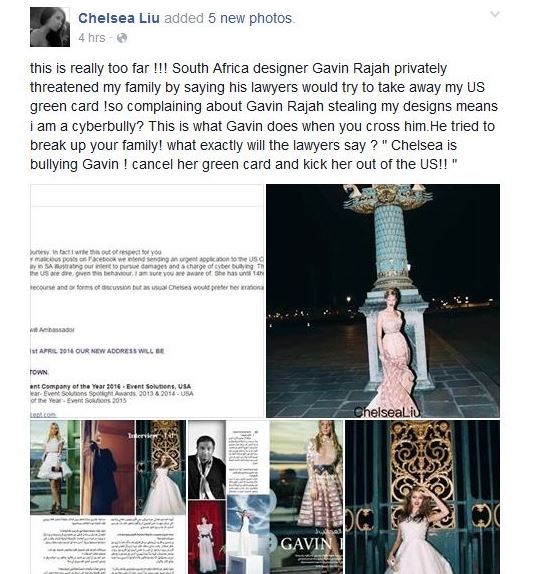 The Facebook posts by Chelsea Liu have since been removed.
This is not the first time Gavin Rajah has been accused of stealing designs. The Cape Town-based designer has been accused of copying a string of designs from other creatives.
Image Credit: Twitter