Grazia SA on Thursday faced the wrath of South African women scorned when they on their social media platforms asked what exactly makes a woman a "slut".
"We'd like to hear from Grazia readers: What is it that makes a girl a slut? Is it the way she dresses? What she says? What she does? And with who? [sic]" read the post on the magazine's official Facebook and Twitter platforms.
And while there were a few followers who didn't take offense and provided serious answers to this question, a large majority of the responses were that of complete outrage.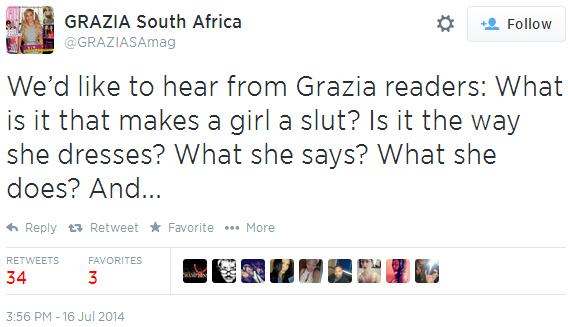 The numerous comments of indignation to Grazia's question included:
"Patriarchy makes a girl a slut...otherwise known as male privilege.
"You know how your teacher told you 'there are no stupid questions?' Your teacher lied. This is an example of a question that does not deserve an answer. Why are you even asking this, Grazia?
"if women don't face enough backlash about their sexuality! ignorance and misogyny have no place in a women's magazine. The social media person for this rag is obviously still stuck in the dark ages.
And: "You are despicable. Thank God I've raised a daughter who, even at 11, saw one of your advertisements and said "why do magazines think women are idiots, Mom?" You've just outdone yourself, though. [sic]"
Unable to ignore this drastic backlash, editor Kerrie Simon-Lawrence later published a statement on the magazine's official website.
It reads: "On Wednesday 16 July, Grazia South Africa posted messages to our Facebook and Twitter profiles asking our followers what the criteria is for a woman to be labeled a 'slut'.
It is evident from responses to the posts that many followers were offended. We sincerely apologise for the discomfort or offence caused.
The messages were published to gauge our audiences' perception of the word 'slut' and to coincide with a feature that we are producing on 'slut-shaming' – the term used to define a woman's character based on her choice of language, wardrobe or actions.
The concept of 'slut-shaming' is one that Grazia South Africa opposes in the strongest possible sense. We take our role of defending and empowering women very seriously and our feature story focuses on the fact that we live in a society where women are bullied and shamed and that it must stop.
We value our readers' views and opinions and we accept that the posts should have been phrased differently and contextualised more clearly. [sic]"