K.O had an "NB announcement" for his fans on Thursday regarding the music video for his Papa Action single. 
The rapper has been pumping fans up all week about the video's release, but shortly before it was supposed to drop, he revealed that the USB containing the video had been stolen.
Erm, either Mr Cashtime is using a really whack system or this is one weird publicity stunt.
Here's what KO had to say about the "missing" USB. 

Mmm, interesting... The rapper then revealed that the person who took the USB rang up the Cashtime offices with an important message. 

Oh, and did we mention he left a note as well?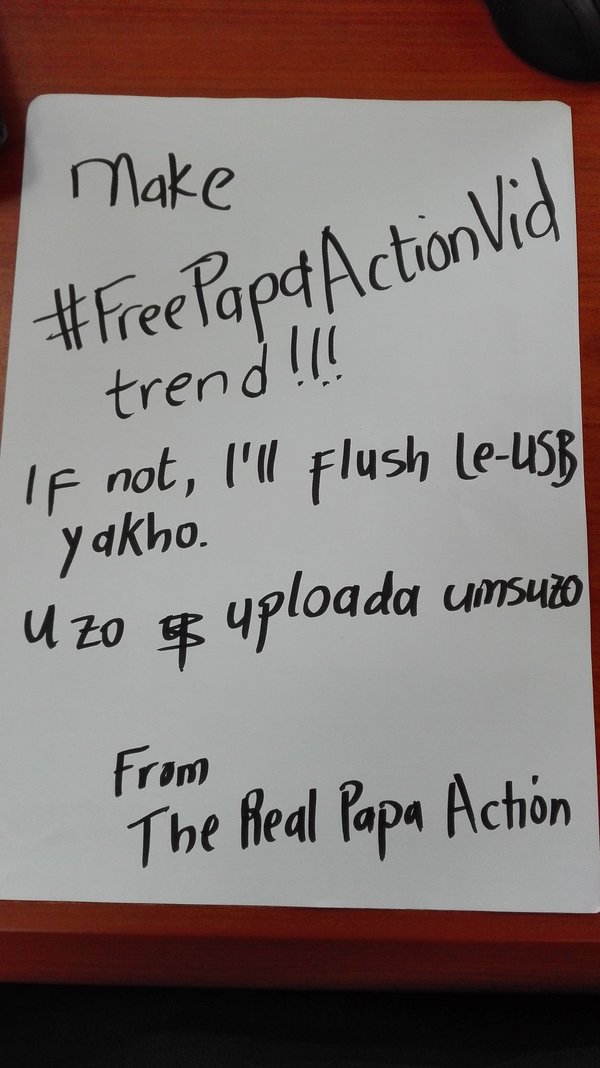 Well, mission accomplished. Not only did K.O trend on Thursday, but so did #FreePapaActionVid.
But the publicity stunt did not go down well with some fans. 
K.O and #freepapaactionvid pic.twitter.com/mPayVp3QA6

— #SNS2016 (@vho_stxvxx) April 21, 2016
KO thinks ke April fool today neh? Smh #FreePapaActionVid :/ pic.twitter.com/qJj3Yhq6XD

— 'Liv (@shadi_mashaba) April 21, 2016
#FreePapaActionVid #BringBackTheUSB
Anyways why dont yal have backup? A whole music vid in just one USB, kanjan?😧😏 pic.twitter.com/iL74pU6yD8

— Vho Aprilian❤ 29 (@QueenVee_Liones) April 21, 2016
I'm a huge K.O fan but this #freepapaactionvid thing was a lil silly... We already love the track we would have jumped on the video anyway

— UIISIRA (@Uiisira) April 21, 2016
Pic. RT @theguy__banTu: Fam, what are your views about KO vid went missing? #FreePapaActionVid @SizweDhlomo pic.twitter.com/dzebP86CzM

— Sizwe Dhlomo (@SizweDhlomo) April 21, 2016
Well, looks like K.O was the only one who thought the drama was funny.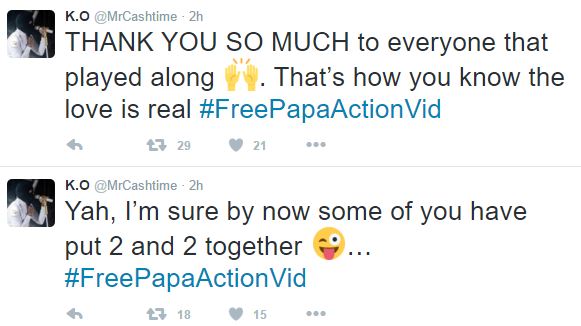 ​
And finally the video ...
READ: K.O: Less talk, more action
Image credit: instagram/mrcashtime