We love South African soapies.
They have the ability to bore, excite, and shock us - all at the same time. That's exactly why we love to hate Generations: The Legacy. The show, which boasts millions of viewers every evening, took things to another level on Wednesday.
This was after Karabo Moroka (Connie Ferguson), who is married to Tau Mogale (Rapulana Seiphemo), revealed that she wants to take a second husband. Say what?!
Yes Karabo why not!!! Actually 😂👊🏽 #Generations pic.twitter.com/p9e9Do0Pjo

— Mbali Nkosi (@mbali_nks) January 27, 2016
Karabo has been having an affair with Zola Radebe (Mutodi Neshehe) and is clearly not willing to let him go. So, what's the next step? Make him her second husband, duh!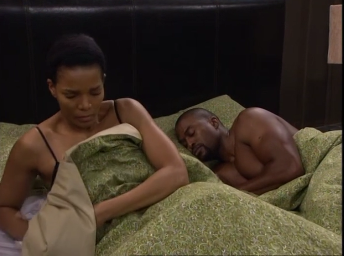 ​
This is really unheard of, especially in South Africa. We're used to seeing men taking more that one wife, however, women are not really known to do that with husbands. 
Here's how some viewers reacted: 
This is Käräbö. Karabo can handle two Ds. She knows vitamin D is important for her health. Be like Karabo. pic.twitter.com/AOIFkDJ7IO

— IG: Tshemedi  (@RealTshemedi) January 27, 2016
Side chicks suddenly feel like they have a greater calling after seeing Karabo on Generations

— Karabo Motsoane (@Tswana_Guy3) January 27, 2016
Karabo has unlocked the bonus level ya botekatse

— Your Fave (@Md_oooh) January 27, 2016
Karabo wants to marry both Tau and esa sinyabi! "If a man can marry two women, why can't a woman marry two men?!" #generationsthelegacy

— Scapegoat (@andiMakinana) January 27, 2016
Karabo just beat Brooke 10 - 0 #Generations pic.twitter.com/7unAPiJA25

— Mother's daughter (@Nolwazi_Khuluse) January 27, 2016
I fully support Karabo in her decision to take a 2nd husband✊✊ Down with patriarchy! #GenerationsTheLegacy

— Doro Goddess (@IAmPaliey) January 27, 2016
Karabo is really gonna win 2016 if she marries both Tau and Zola... It's time she dethroned Brooke Logan

— Lebohang (@Lebza_M) January 27, 2016
Sjoe! Is it too early to say Karabo has won 2016?
Image credit: Facebook/Generations