Probably South Africa's most talked about socialite this year, Kenny Kunene is back in the media spotlight, and not for the first time it's for political reasons. Kunene has announced that he is joining the Economic Freedom Fighters movement, the political party spearheaded by Julius Malema.

The timing of the news is interesting, to say the least, following reports that he is being investigated by the hawks for alleged fraudulent dealings.

Never keen to stay in the media's bad books for too long, Kenny  counteracted these reports by announcing that he had joined the EFF movement.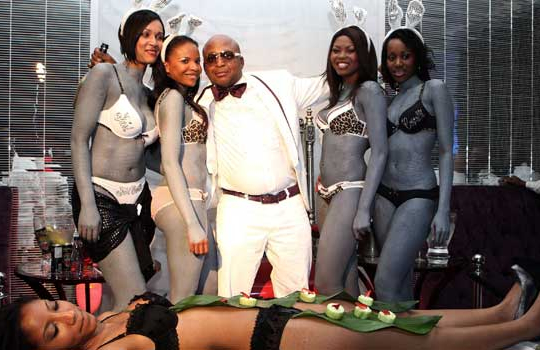 No More Sushi and Women for Kenny Kunene
The massively popular club owner and socialite has made no secret of his love for spending cash, particularly in the company of fine women, not exactly politically appropriate behavior.
Kenny announced his new political affiliation on Twitter, taking the time to clarify his changing of ways:
I am like Paul, who used to be Saul, but saw the light on his way to Damascus. The life of sushi and my army of women I put behind me. 
It remains to be seen how seriously Kenny Kunene will be involved with the EFF, but with him and Julius Malema as the face of the party you can be guaranteed entertainment.

You can read Kenny's full statement and understand the full motivation behind his decision. 
Don't forget to follow us on Twitter and to find us on Facebook!