It was only yesterday that I was speaking to my colleague and declaring that Young Money was really going to own this summer. Lil' Wayne's album is meant to drop this month; so is Nicki Minaj's latest release, The Pinkprint. Drake will be following those releases up with his own latest effort, Views From the 6th, which I believe releases in April. What I wasn't expecting, though, was that Lil' Wayne would go on a wild Twitter rant and attack his record label, Cash Money Records. 
So let's actually go through the tweets, to try and piece it together. It began with Wayne apologising to his fans for the delay on his latest studio album, Tha Carter V. We're no strangers to Lil' Wayne's album delays, but this time he blamed it on the label as well as Birdman, rather than his own pursuit of perfection.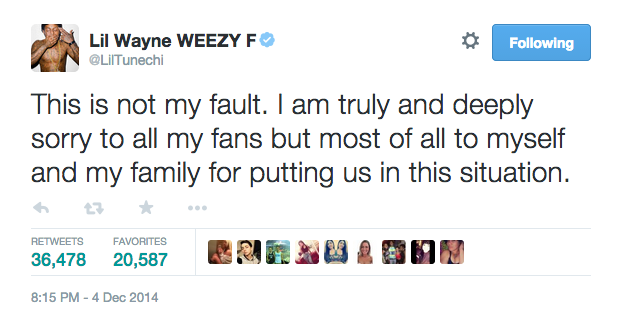 As a Lil' Wayne fan myself, I was looking forward to the fifth installment of Tha Carter series but it seems I'll be waiting a lot longer than this month. Wayne, in his apologies and explanations genuinely seemed broken hearted and disappointed at not being able to offer his fans more of his music. But he wasn't done!
A PRISONER. Wow, look I know there's always tension between artists and labels, or any kind of working relationship for that matter. But for Wayne, who has always shown CM nothing but loyalty, to come out and claim to be a prisoner shows that things must be worse than we ever guessed. Yikes. 
He signed off his rant with one final request: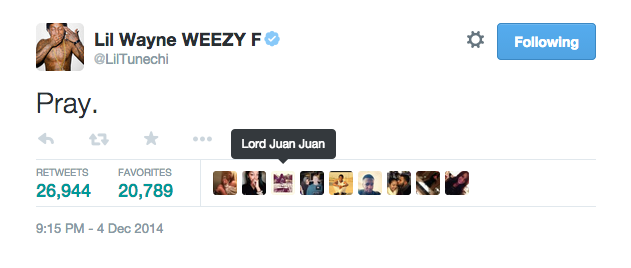 Wow. Just wow. Are you as speechless as we are?