It seems some listeners are not too impressed with Metro FM DJ Mo Flava, who apparently made an insensitive comment towards HHP's suicide attempts.
The rapper, who had an interview on Metro FM earlier on in the morning, opened up about why he attempted suicide and the reason behind him being depressed.
Mo Flava, who hosts the Morning Fix on the radio station, felt the wrath of an unpleased listener who believed that his comment after the interview was irresponsible.
So what exactly did Mo Flava say?
Well, according to a Facebook post below, Mo flava asked:
''Why would you want to kill yourself when you're so famous and successful?''
READ: Nomzamo Mbatha: I am broken
This did not settle well with the radio station's listeners. Here's the rest of the Facebook extract from one of Metro FM's listeners: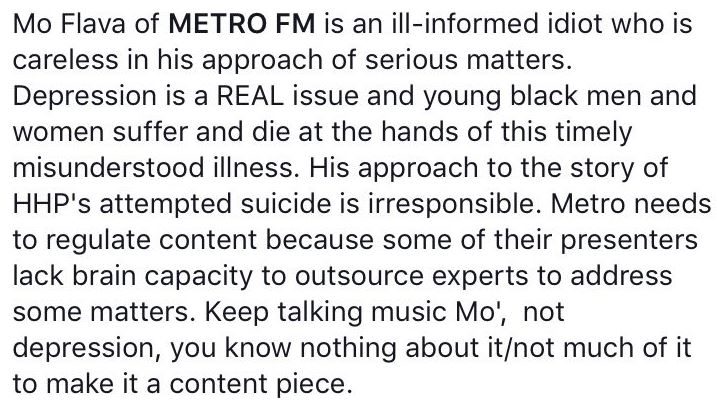 However, Mo Flava did send out a Tweet asking people how they can offer advice to HHP. The Tweet received a positive response from many.
Strength to @HipHopPantsula,hope he comes out of this difficult period.any words of encouragement and advice for him? #TheMorningFix

— Moflava2016 (@moflavadj) April 5, 2016
Was Mo Flava wrong in asking the question above? Let us know in the comments section below.
Image Credit: Facebook