The 2015 MTV MAMAs were nothing short of fantastic.
However, they were unfortunately met with a few awkward moments here and there and, of course, there were also plenty of great moments.
One of the most glaring awkward moments was the issue of sound, which, unfortunately, is something that we encounter with many of our local shows. At some point, we couldn't even hear the likes of Bucie and many others singing, which was unfortunate because we really do love some Bucie.
Here are our picks of some of the highlights... and lowlights of the event.
MTV Base congratulates Jimmy Nevis instead of Jeremy Loops
MTV slipped up a bit when they congratulated Jimmy Nevis instead of Jeremy Loops, but it's ok, we all make mistakes, a bit of excitement can do that to us. MTV Base admin, it happens to the best of us.
Apologies @JimmyNevis we screwed up.

— MTV Base Africa (@MTVbaseAfrica) July 18, 2015
That "Top Actress" moment
Then there was the top actress who kept on screaming. We have no idea what she was doing whilst presenting the award but it was a bit awkward. Maybe she thought this was another audition? We're so not impressed. 
Boity throws shade at AKA
Did Boity really go there? Yes, she did! The TV personality, who presented the Best Collaboration award, made things very awkward before announcing the winner (AKA ft. Burna Boy, Da L.E.S and JR for All Eyes on Me).
Instead of just sticking to the script, she went on about how her boyfriend, Cassper, always wins. Wait, maybe that was part of the script? Either way, this didn't impress some people. By the way, AKA handled that one very well. 
Gotta Admit Though, AKA handled that "Awkward Moment" like a G, removed himself from the situation and made Boity seem childish

— JoeDaMc (@joedamc) July 18, 2015
Lol"@Leandrio: Boity tried to shade AKA but failed like her career #MTVMAMA2105"

— B O I T U M E L O (@Simplymellow_) July 19, 2015
Will Boity ever be ready for an AKA come back *sets camp chair & watches* Kusazoba mnandi it won't be today kodwa iyeza

— Le Royal (@KayzeePheHey) July 18, 2015
Yah neh Boity is so childish now I know what y'all meant. That was so unnecessary for her to treat AKA like that.

— Ziva♥ (@PalesaPearlz) July 18, 2015
Boity didnt even congratulate AKA 😂😂😂😂 hate is real. Loyal chicks 💪💪💪💪💪

— S N O R A H (@just_snorah) July 18, 2015
@Boity 😂

— AKA (@akaworldwide) July 18, 2015
Celebrity baes
Who could forget that kiss between the Kokomaster himself D'banj and Bonang Matheba. The entire Nigerian and South African nations ululated when they saw that kiss… whooo! If you missed the kiss, don't worry, we've got your back. Here it is right here:
In case you missed THAT kiss... Thank you, Twitter. #MTVMAMA2015 pic.twitter.com/BLiZFxucK9

— ZAlebs (@Zalebs) July 18, 2015
Then there was Boity and Cassper who also shared a smooch at the event. After receiving his award for Best Hip Hop act, Cassper also announced that on 31 October, 2015, he'll be filling up the Dome.
Congratulations to him, 2015 has been amazing for Nyovest. Yho! Anthony had to ask if Cassper is going to marry Boity... yeah, Cassper, what's it going to be, dude?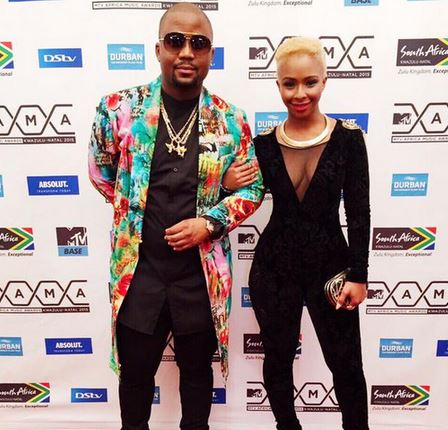 D'banj gives props to Don Jazzy
Still on the topic of D'banj. we thought that it was really sweet of him to dedicate his MTV Evolution award to his former partner, Don Jazzy. We really didn't expect that to happen.
Thank you #MTVMAMA2015 !!! with @iamdbanj, @donjazzy pic.twitter.com/EnogLFqIdZ

— MTV Base Africa (@MTVbaseAfrica) July 18, 2015
Anthony Anderson steals the show
Then there was the man of the night, Anthony Anderson. We must be honest, we didn't have much faith in him, but he proved us wrong.
Anthony was on fire from the moment he stepped onto the stage and hollered, "Siye Debben!!!", and, thankfully, he didn't butcher any of the languages when pronouncing the names.
Riky Rick wins his first award
The Boyz n Bucks crew finally came out on top as the winners on the night. Congratulations to Riky Rick, he deserved that award and we loved his 90s inspired outfit too.
Image credit: Twitter