Tshwane, South Africa (22 November 2014) -- The 2014 Unite 2.0 campaign, an initiative of the Department of Sport & Recreation South Africa and the Department of Arts and Culture, was a joyful and celebratory day as over twenty-three thousand South Africans climbed on their bicycles, or pulled on their running shoes, to compete in the second annual Nelson Mandela Sports and Culture Day.
Once again South Africans proved that sport can be the glue that brings people together, as cyclists, runners (and walkers) put their best foot forward to celebrate the legacy of Mandela.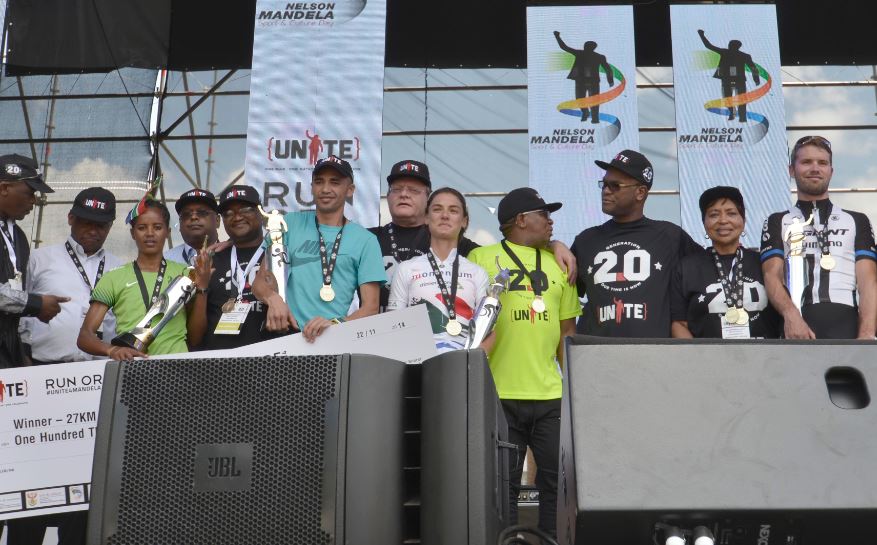 Sports Minister Fikile Mbalula welcomed everyone in the early hours of the morning, and his infectious energy got all the competitors excited for the day.
With white doves released and a bouquet of colorful balloons symbolizing peace and the rainbow nation, the day kicked off with the national anthem.

It was Tshwane's Executive Mayor, Cllr. Kgosientso Ramokgopa, who got the races underway, as South Africans from all walks competed alongside Unite 2.0 Ambassadors such as Caster Semenya, Shashi Naidoo, Minnie Dlamini, Werner Swanepoel, Craig Jacobs, Zane Moosa, Khanyi Mbau, Bianca Le Grange, Carol Tshabalala, Bridget Masinga, Cassper Nyovest, Sibongile Khumalo, and many other celebrities, sports stars and politicians. 
Emcees Lupi Ngcayisa, Tall Ass Mo and Celeste Ntuli presented artists like Ladysmith Black Mambazo, Lira, the Parlatones, Kurt Darren, the Mahotella Queens, Zakes Bantwini, Sbongile Khumalo, AKA, Beatenberg, Sifiso Ncwane,Naima Mclean, Phuzekhemisi, Zahara, Karen Zoid, Desmond and the Tutus, Zandile Mzazi, Supreme I Crew, Botlhale, Kryptonite, Gcina Mhlope, Di Tswina Tsa Ngwao and Mzwake Mbuli.