There seems to be a misunderstanding between Club 808 presenter Nonhle Thema and the shoe brand (for which she's currently ambassador) Madison over the past 24 hours. Yesterday the company had issued a statement stating that they had released the presenter of her ambassador duties. This apparently did not sit well with Nonhle who allegedly expressed her displeasure at being released of her duties on Twitter. We say Allegedly because we can't find any record of this tweet, even by Screenshot. However, Nonhle apparently stated that the company had no money and could not afford her (Hence why they dropped her).  We're a little sceptical, because Nonhle is still vouching for the brand in her Twitter bio.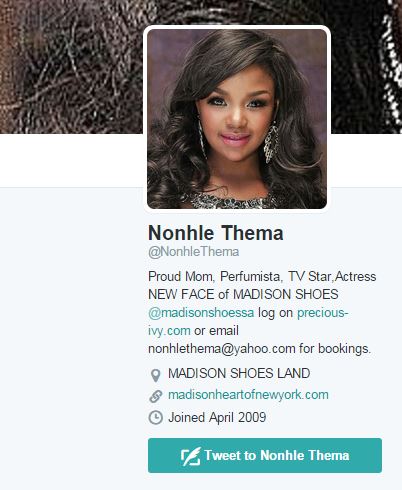 After the alleged tweet, Madison issued this statement clearing the air following the rumours that they had not paid Nonhle Thema,
"Ms Thema's contract which was signed by herself, became effective 5th April 2014. Ms Thema's brand ambassador agreement was structured to allow her to garner revenue from sales of Madison, The Heart of New York shoes.
Ms Thema received revenue as per the below which is stated in her contract:
5-10% revenue on various sales drives and in store activation sales. These included sales from the Madison, The Heart of New York website.
We would like to clearly state that monies and percentages were agreed on and all monies paid directly to Ms Thema. Any outstanding amounts owed to Nonhle Thema has been agreed upon by the brand and will be paid out as well.
Ms Thema was also granted 10 pairs of shoes from each Madison, The Heart of New York season, plus 4 extra pairs per season to attend special events/ photo shoots." - Madison, The Heart of New York
Since the statement was issued, Nonhle has seemed indifferent about the whole ordeal. Well, we hope everyone got paid for their dues and the misunderstanding is left in the past. After all, we know how difficult it can be for our local celebrities and just like any average-joe out there, every cent they receive counts.