Ntsiki Mazwai called Beyonce a "house n*gga" on Twitter and all hell broke loose.
We can't say we are surprised that Ntsiki decided to take a swipe at Beyonce at a time when the US singer was trending after a super-hot performance of her new single, Formation.
While her fellow SA celebs where swooning over Beyonce's (controversial) music video and Super Bowl performance, Ntsiki was like" "nah, fam".
READ: Time for Tea: Does Khanyi Mbau love herself?
I mean, did she not see Blue Ivy's amazeballs cameo?
Or this goose-bump worthy shot?!
No, she did not! All Ntsiki saw was Queen B (not to be confused with Bonang) emulating white people. Seriously? But we will let Ntsiki break it down for y'all.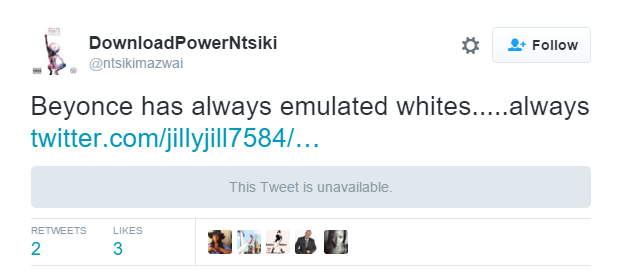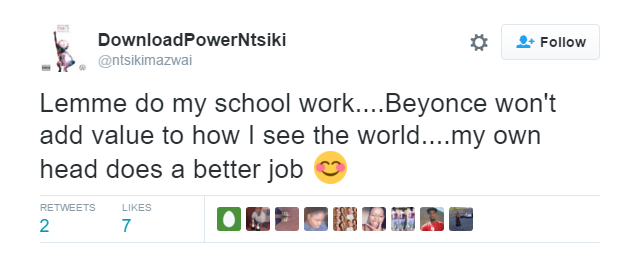 So did Ntsiki miss the whole black pride message? Wow, she needs to sit under a rainbow or buy a happy meal. 
So much fun! Just last week Ntsiki made headlines for seemingly sub-tweeting Simphiwe Dana - claiming slept her way to the top. Simphiwe threatened to sue, and Ntsiki then said she was not even talking about her. 
Mmm, we wonder who will be Ntsiki's next victim? Before Simphiwe there was Pearl, before Pearl there was Lira, before Lira there was Sports Minister Fikile Mbalula, before Fikile there was – you get the point? Can Ntsiki focus on more important things, like her music, and stop slamming women on social media…
READ: Ntsiki Mazwai vs Mzansi: All those Twitter wars
*Our weekly column, Time for Tea, reviews celebrity news-making headlines. So grab yourself a cuppa, and join the conversation!
#TimeForTea
Time for Tea: Thug granny takes over Twitter
Time For Tea: Twitter FBI is on the case​
Time For Tea: Cassper's week of tantrums​
Image credit: Instagram