It's been a while since we've written an OPW review, purely because the last couple of episodes were honestly not all that inspiring. 
However, the most recent episode of OPW brought not only warmth, but relief to our hearts when newlyweds, Mr and Mrs Mukwevho, shared their matrimony with the rest of South Africa.
Before we go any further, let us first attend to the elephant in the room.
Chris and Babalwa, who are steadfast Christians, did not date or become intimate until their wedding, as Chris' church does not allow dating.
This rule clearly had some viewers perplexed.
Marrying someone you never dated? Yohhh I cannot 😧 #OurPerfectWedding

— Karabo Mokgoko (@Kay_Angel) April 3, 2016
She isn't pregnant, they've never kissed and they bought clothes for their unborn twins #OPW #OurPerfectWedding pic.twitter.com/WVSIeMmztK

— Azania Afrika (@SAYoungLion) April 3, 2016
YOh.... This couple has never been intimate. Not even a kiss! This is interesting 😯 #OurPerfectWedding

— #TheBestDrive 3-6pm (@DJ_Sabby) April 3, 2016
Some viewers became even more sceptical when the couple expressed their wish to have twins one day and also revealed that they're buying clothes and saving up money for their kids.
This couple isn't even pregnant but they have bought clothes&shoes for their future imaginary twins?#opwmzansi #OPW pic.twitter.com/ZcFabSic0L

— Mondli Zondo (@MoZondo) April 3, 2016
Dear viewers, some people actually do plan in advance for their future and, yes, the world still has people who practice celibacy. Some of us could learn a lot from Chris and Babalwa's values.
Anyway, back to their wedding. Honestly, this wedding was the closest thing to perfection we've seen in a while. From the venue to the decor, Mr and Mrs Mukwevho made sure that their special day would not get trolled on social media. 
The Grooms' tie
Unfortunately, a small wardrobe malfunction is all a social media troll needs to start complaining, but in fairness, we kind of agree with some of the viewers' distaste towards the groomsmen suit and rather different ties.
The groomsmen were dressed in powder blue suits and ties that did not settle well with many, including us. Sometimes keeping things simple is key, as a simple bow-tie would've gone a long way.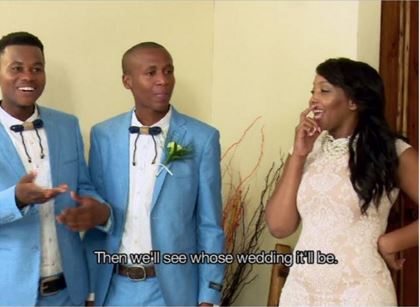 Amazalwane knows how to turn up
One thing that the couple also succeeded at doing was killing the stereotype that church weddings are boring. Believe us when we say this wedding was a serious turn-up! 
We've never seen a wedding reception that had so much energy, not forgetting the amount of money that was donated to the couple too. There was so much energy at the wedding you would've sworn that they were at a club.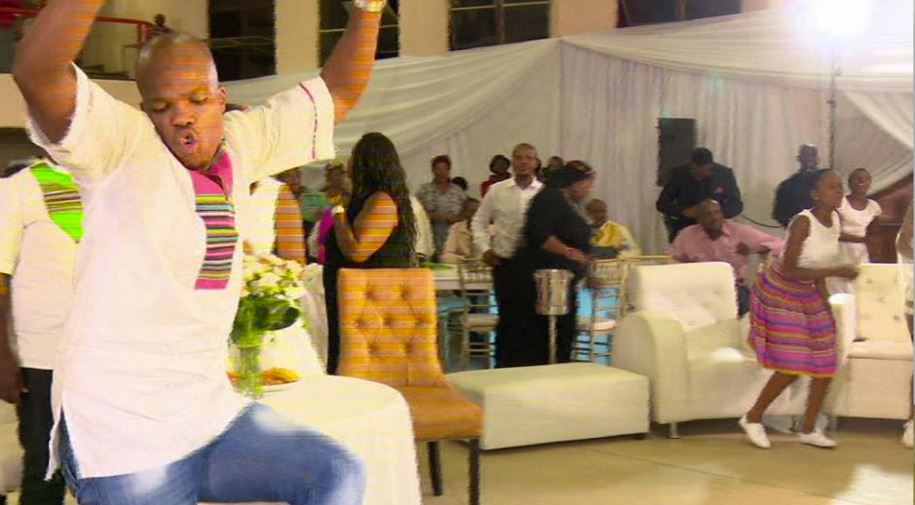 The perfect kiss
Believe or not this was Babalwa and Chris' first kiss, and it wasn't bad at all, enough tongue and lip was used for their first kiss. Not bad for a couple who has never been intimate!
Our Favorite comment
Viewers comments always have us either cringing or laughing. This week's comment about the couple's kiss definitely had us rolling on the floor with laughter. KG Mehlape put the naysayers in their place.
So, guys, who had their first kiss behind a school bus?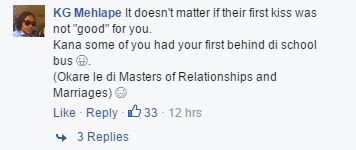 Congratulations to Mr and Mrs Mukhwevho. We rate this wedding at a beautiful 9/10.
Image Credit: Facebook