Pearl Thusi caused an uproar on social media at the weekend after Tweeps accused her of throwing shade at Bonang – again!  
Fans claim that during her Saturday morning show on Metro FM, the KwaZulu-Natal beauty joked that Queen B used muthi to get AKA.
But Pearl denied that she said anything about Bonang, and instead insisted it was her co-host Phat Joe who was talking rubbish about AKA – Bonang's rumoured beau. 
"I said nothing about her. I'm just being made to pay for Joe's words because no one has the balls to address him," Pearl tweeted.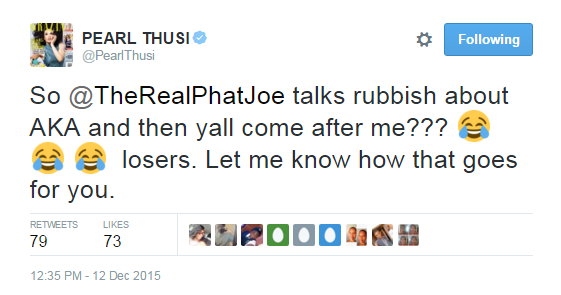 It seems many people who tweeted about Pearl's alleged on-air comments, did not even listen to the show.
But one listener claims she recorded the show, and tried to set the record show.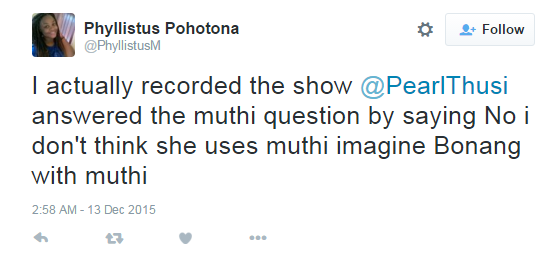 It's not the first time Pearl has come under fire for taking jabs at Bonang.
She used #AskAMan, the hashtag used during Bonang Matheba's radio show, to let everyone know that she was #TeamZinhle. 
"Is there an #AskAMan to find out how to apologise to the woman who is sleeping with your man? #askingforafriend," Pearl tweeted in September, after Bonang demanded that DJ Zinhle apologise for claiming she had an affair with AKA.

Last month, Pearl wore the exact same outfit as Bonang and captioned a picture: "Imma help myself to someone's man dress"
Sjoe! 
Despite Pearl insisting that she did not diss Bonang on Saturday, fans have accused her of constantly talking trash about AKA and Bonang on her radio show. 
It seems AKA agrees...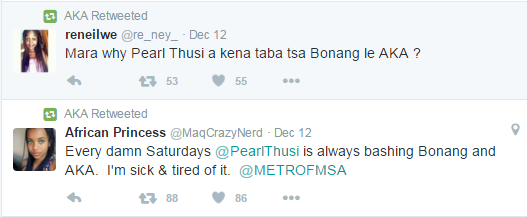 Here's what some of you had to say about the drama. 
"@otsile_oaxi: Pearl Thusi is actually annoying now, Zinhle is not even as bothered with AKA and Bonang, or is she not happy with life

— Kim Female king /AKA (@Pearl26June) December 13, 2015
@new_shana plz dont take this up the wrong way, but Pearl is actually the one who tried stopping Joe - who was talking about Bonang

— Kamvalethu Balelo (@KamvaMitch) December 12, 2015
That awkward moment when u realize Pearl Thusi is beefing alone. Bonang is not even there.. Cud u plz stop Pearl u way behind

— Baddest (@CaptainKeigh) December 12, 2015
Bonang is such a lady though not even borethered my this attention seeking Pearl Thusi

— #PapaMaTwins (@Imsollyntuli) December 12, 2015
Image credit: Instagram/Pearl Thusi