Pretoria based Malawain prophet Bushiri was arrested last week and his followers haven't stopped defending their fallen leader since then. A swarm of devoted followers met in Pretoria's specialised commercial court this week from the early hours of Wednesday morning to pledge their support for the self-proclaimed prophet Shepherd Bushiri.
The followers - who claim his teachings have literally saved their lives - made sure to be outside with their posters and t-shirts of support from as early as 5am. Bushiri and his wife Mary were arrested last week in Rustenburg and face charges relating to money laundering, fraud and contravention of the Prevention of Organised Crime Act. The Hawks say their investigation extends back to 2015, when the incidents allegedly took place.
From a devoted legion of fans to private jets and luxury sports cars, Bushiri is starting to sound more like a pop star than a man of God. The "Prophet" flaunts his wealth without shame and some say that this spectacle of success is what attracts his followers like moths to a flame.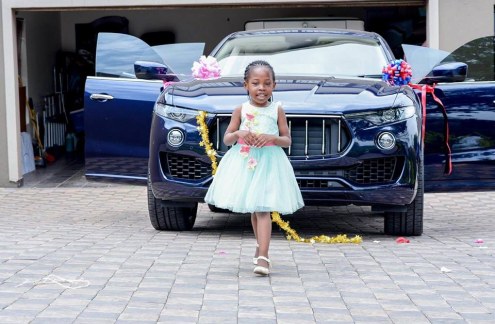 In 2017, the pastor trended on social media for days when he bought his daughter a R1.6m Maserati for her sixth birthday. The Daily Sun reported that Bushiri posted a picture of the Maserati on his Facebook page with a caption wishing his daughter a happy birthday.
Bushiri also used his 67 minutes for Mandela Day to announce that he has set aside R20 million for charity work in Malawi and South Africa. Apart from donating R100 000 and various food and non-food items to each, the leader of the Enlightened Christian Gathering (ECG) also pledged to build a hostel and study room at Boitumelo orphanage, owned by Sophie Msiza, which has 48 children.
There's many sides to each story and it seems like South Africans don't agree on who this man says he is or what his true intentions are.
Either way, the law is the law. So, if the Prophet has broken the law then that's that. But seems to us that Bushiri's fans aren't going anywhere no matter what.
Main image credit: FACEBOOK via Prophet Shepherd Bushiri Ministries