Nyovest laid charges against, Prince Nyembe, one of AKA's entourage who allegedly threated him with a gun.
The two have recently been involved in a Twitter feud and things heated up when the two met before Nyovest was set to perform on SABC's 'Live Amp'.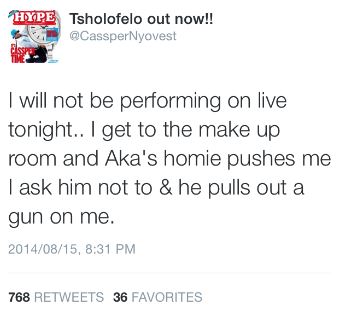 Moeketsi took to Twitter to express his feelings on the pair's beef and revealed that he didn't approve of what was happening.
"Guns showed up because a tv show wanted to play on the beef. That's great TV. Which turned into bad PR for everyone! #F****Beef"
"The worst is, my assessment of beef is that It always kills or slows down one of the rappers careers. That ain't progress. #F**Beef," he tweeted.
He added that he was sceptical the on-going feud benefitted either of the stars involved and he felt it took the focus away from the music produced.
"Do You guys really think this beef benefits anyone of these rappers?? You really really believe that??? Really??? #F***Beef."
"Personally, as a musician, I'd hate for anyone to think of anything else other than music when they hear my name. #F***Beef."
AKA's management team showed no interest in entertaining what is thought to be nothing but a publicity stunt:
"AKA is in this for the music and the fans.  We're not getting involved in publicity stunts, Our team doesn't believe in violence or publicity and attention stunts." - Vth Season
Since the accusations made by Cassper, AKA has also decided to distance himself from the entire debacle.
"Thought about it. Since I didn't do anything I actually don't owe anybody an explanation. No statements from me, just hit records" – Tonight reporter.
Teamtalk