The Broadcasting Complaints Commission of South Africa (BCCSA) has dismissed the grievance of a Port Elizabeth woman who feels that Robin Thicke's popular hit Blurred Lines promotes "rape culture".
As a regular listener of Afrikaans radio station RSG, Holly Lottering lodged a complaint with the BCCSA and requested that the song be pulled from the airwaves because it uses "rape-culture lingo" to promote sexual violence against women.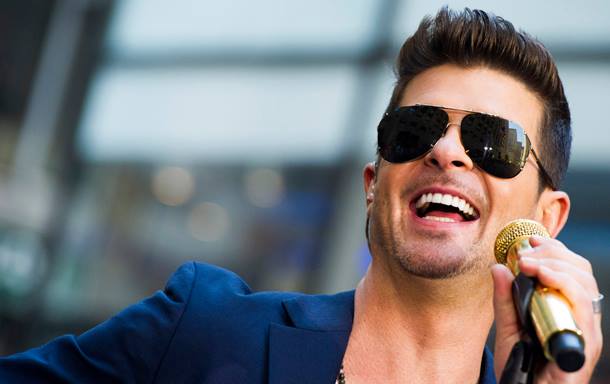 Credit:  Facebook/Robin Thicke
The Sowetan reports that the BCCSA, whilst admitting that the song is "hardly an example of artistic genius", ruled that the station could continue playing it.
The commission agreed with RSG's opinion that "there are no explicit references to violent sexual activity" in the song, saying that "in fairness to the songwriter and the principle of freedom of expression", they do not share Lottering's opinion that the song promotes rape culture and violence against women.
The BBCSA said they feel that the song is more "a parody of feminism or women's liberation" and "relatively harmless and inoffensive" in comparison to some of the "hard-hitting misogyny" within the lyrics of many other artists.
Responding to the commission's ruling, Lottering admitted that she was displeased and that her opinion of the song remains, and she is incidentally not the only one who feels this way.
Student unions at various British universities have banned Blurred Lines from being played in their bars and Duran Duran frontman, Simon Le Bon, recently echoed Lottering's sentiment during an interview with the Telelgraph.
Said the singer: "The problem with Robin Thicke's video is it disempowered all the women in it. I think Robin made a bit of a mistake, because he's not a bad guy, he's not a misogynist, but he's getting off on the chicks in the video and all that stuff. The theme of the song is, 'You say you don't want it, but you do', and that's, actually, quite scary if you carry it through, so I felt that that was a mistake."
Thicke has defended the song, though, and actually said it is pro feminism during a Today Show interview.
He said: "It's supposed to stir conversation, it's supposed to make us talk about what's important and what the relationship between men and women is, but if you listen to the lyrics it says 'That man is not your maker' — it's actually a feminist movement within itself."
Teamtalk