It all started when Khaya Dlanga tweeted a picture of his brother's first ad on Monday, praising him and his colleagues for a job well done.
The advert re-enacts the famous scene captured by Sam Nzima, where a dying Hector Pieterson is being rushed for help after being shot by apartheid police on June 16 1976.
In the re-enacted version of the photo, a young man is depicted as carrying a graduation gown instead, jovially walking down the street alongside an elder woman, presumably a proud relative.
At the bottom of the image is the caption 'Live The Dream The Youth Of '76 Died For' next to the Channel O logo.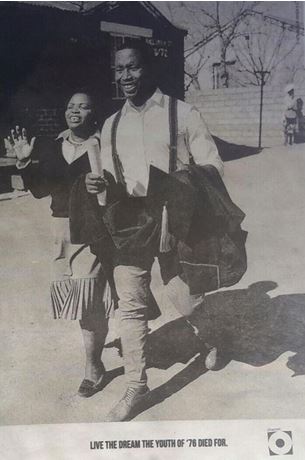 Simphiwe Dana, who was offended by the image, took to Twitter to express her outrage at the insensitivity of the ad.
Started with blacks dancing for everything in ads, and now we're here pic.twitter.com/OcvujzOfiB

— Firebrand (@simphiwedana) June 15, 2015
Dana then tried to engage Dlanga over the advert, but the social media influencer kept his distance.
I find that Twitter debates tend to be more about grand standing than anything else. @simphiwedana

— Khaya Dlanga (@khayadlanga) June 15, 2015
Not everyone seems to be rubbed up the wrong way by the controversial ad. Former leader of the DA in Parliament Lindiwe Mazibuko tweeted that the image is "incredibly moving."
Do you find the advert offensive? Let us know in the comments below.