Born and bred in Transkei, Eastern Cape, Simphiwe Dana entered the South African music industry in 2004 with her debut album Zandisile. 
Her debut album earned her a South African Music Award for "Best Jazz Vocal Album and Best Newcomer".
Since then, Simphiwe has gone on to do excellent things in the music industry and has just released her fourth studio album, Firebrand.  However she now says her songs have "never received" enough airplay on Metro FM.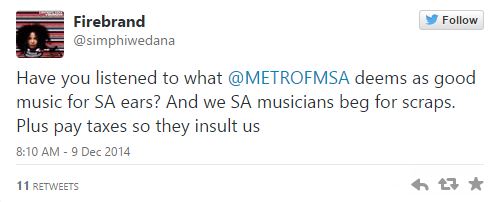 The hit-maker retweeted a tweet from one of her followers, which read: "For instance, Casper Nyovest's album has about 5 good songs, the rest are wack, and should we really listen to such?"
Simphiwe asked the station in a tweet to play "our music, you won't be less cool for doing it".
She tweeted: "I wish musicians would speak with one voice. What @METROFMSA et al as public broadcaster is doing to us is criminal".
Credit Image:Facebook.Simphiwe Dana