Generations: The Legacy has been a hot topic because of its recent storylines.
The popular soapie first shocked viewers when Karabo Moroka (Connie Ferguson) revealed that she wanted to take a second husband. Yes, that was the first time we've seen such on a local soapie. 
Then there's THAT storyline about Tshidi (Letoya Makhene) and her husband Gadaffi (Vuyo Dabula) and their snake, aka mamlambo. Things have escalated and the snake is now sleeping in her bed. Yikes!
WATCH: ZAlebs reader meets Generations: The Legacy cast
G: Tshidi wake up
Mamlambo : I make the things that's makes Gadaffi to disappear #GenerationsTheLegacy pic.twitter.com/iDY3L3rsfC

— #Loot27 (@CPTtwins) March 7, 2016
And now there's the story about Wandile Radebe (Chi Mhende). Chi is a female, but plays a man on the soaopie. Her character is currently going through some changes. 
How pretty?????? Wow! #GenerationsTheLegacy #BabyGotBack 😂😂😂😂 pic.twitter.com/OeVgSGHupQ

— Cwy™ (@cdoubleyouwhy) March 8, 2016
While the story is entertaining for some, others seem to have a problem. It seems like some viewers watch TV shows because they want to learn something, and they're not here for the entertainment and fiction. 
"@hope_masithi: RT"@Boity_Rams: Open letter to Mfundi😞😞 #GenerationsTheLegacy pic.twitter.com/TZ4bq0bj75""

— The Life Of Pablo (@Gopolang_Lebone) March 8, 2016
One of the show's lead characters, Thando Thabethe, has taken to Twitter to make it clear that Mfundi Vundla, or Generations: The Legacy, is not a teacher. It's just a soapie, people!
(Read tweets from the bottom, up).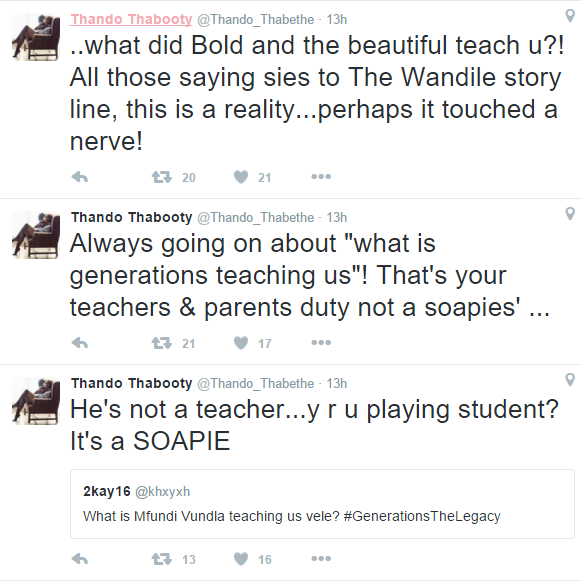 There you have it, people. If you want to learn something, go to school... soapies are not here for that, apparently. 
Image credit: Instagram