There's no other South African celebrity that holds the boasting rights of shouting out "N……. We Made It!!" like comedian and The Daily Show's newest host, Trevor Noah.
This morning, Trevor has become the talk of the town as he continues to fly the South African flag high.
Trevor, who attended the illustrious Met Gala event, received raving compliments from South Africans as numerous pictures of the strikingly handsome comedian did the rounds on the internet.
Dressed in a well-fitted, white tuxedo on the Met Gala red carpet, Trevor rubbed shoulders with international celebrity A-listers such as Jennifer Lopez, Beyonce', Jay-Z and Kim Kardashian.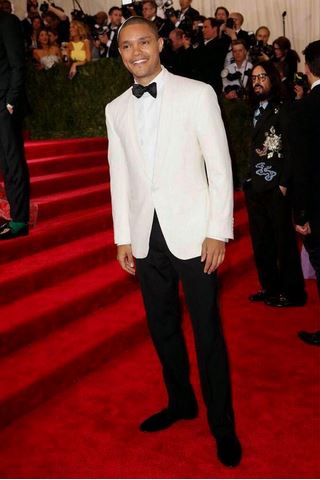 ​
Here are a few funny tweets from South Africans who claim to have a close linkage to Trevor, who is now undoubtedly one of the biggest stars to come out of the country:
"I don't wanna name drop but I'm actually a good friend of Trevor Noah's girlfriend"

— Nomali Ngubane (@_Trooi_) May 5, 2015
"@thob_: Really can't believe Trevor Noah has made it made it. Like akuna return. Wow. He fits right in even." right? 👏👏😍

— LoveMeLikeX.O (@misslelwe) May 5, 2015
Hope Trevor Noah doesn't Charlize us now that he has Metball credentials

— Zazi (@Zamazizi) May 5, 2015
Shine Trevor Shine!