She began her stand-up career in 2006 and soon became South Africa's 'First Lady of Comedy'.
Tumi's comedy has taken her all over Africa, including Ghana, Botswana and Zimbabwe.
She also made an appearance at the 2013 Edinburgh Festival in Scotland.
Comedy made her famous but acting is her first love.
"I knew I wanted to be an actor. But because I'm chubby – I don't have a conventional look – it was hard to get acting work. The hot chicks were getting the work. And yes, there were some talented chicks getting the work but if I look at my age group, it was mostly about how you look than whether you have the talent or not," she revealed on Trippin With Skhumba.
Despite the challenges, Tumi went on to star in shows such as Izoso Connexion, High Rollers, Kota Life Crisis, Laugh Out Loud, Rockville, Soul Buddyz, The Queen, and The Bantu Hour.
Tumi is also a successful TV presenter. She has hosted hit shows such as Our Perfect Wedding, Red Cake - Not the Cooking Show and her own talk show, WTFTumi.
When she is not acting or presenting you can find Tumi on radio. She has presented shows on Jacaranda FM and Motsweding FM.
Tumi's parents named her Relopile Boitumelo, which means "we prayed for joy".
She is certainly bringing joy to the world.


Tumi Morake Police Brutality
Mzansi celebs have also spoken out against the senseless killings of black people in the State and here in the country.
Comedian
Tumi Morake
detailed a scary ordeal she experienced at 7 months pregnant when she had 7 rifles pointed at her.
The incident took place in Cape Town and had the comedian wondering how threatening she must have looked. The reports of police brutality have Tumi wondering if she should be grateful she was hurt or angry they didn't escalate the matter.
Police brutality
is something that has been experienced in most countries in the world and celebs are speaking up against it.
Tumi Morake age
Tumi Morake was born on December 22, 1981. She is 38 years old.


Tumi Morake Birthplace
While Tumi Morake is currently based in Johannesburg, Gauteng, her birthplace is in the Free State. Tumi's hometown is Bloemfontein.


"What I like about Bloem is that's where my family is and that's where my language makes sense to people, because when I speak a lot of people are like: 'Where do we place you? Are you Tswana; are you a Sotho-speaking girl?' But when I say "Bloemfontein", they say it makes says, it's the Afrikaans. It all falls into place," she told Showmax, while promoting her appearance on Trippin With Skhumba.


Tumi was named one of the Free State Province's Icons for excelling in her career.

The comedian also spent her teen years in Mahikeng in the North West.


Tumi Morake Family

Tumi Morake's parents were both anti-apartheid activists. They were arrested for treason during apartheid and spent time in jail during the 80s.


"The nightmare actually began in 1987, when we left the Imperial Reserve and relocated to the suburbs. My parents were being watched and followed. In December 1987, he (her father) went underground and my mother and I fled the city. Upon her return to Mafikeng, my mother was arrested for treason. She never spoke to me about her time in prison. Mama wasn't quite the same after this experience. Meanwhile, my father had been smoked out of hiding by the news of my mother's arrest, and the next time I saw him was when he was behind bars," she told Destiny magazine.


Tumi has three half-siblings on her father's side, her brother Tonono and sisters, Disebo and Mathapelo. The comedian revealed in June 2018 that her sister was hospitalised after being beaten by her partner.
"I am in the East Rand at a hospital as my sister is being treated for burn wounds after having her head pounded and thrown on the floor infront of her toddlers. I love her. My heart is bleeding. I won't call men trash, but my God you can do better men. #mencandobetter," she tweeted.


Tumi Morake Education

Tumi Morake spent most of her high school education in Mahikeng, North West. She then moved to Johannesburg. She studied Drama at Wits University but had to drop out due to financial reasons.


"By 2003, I was deeply in debt to the university. I had applied twice already for a loan from Wits, and had now run out of lifelines. I did not even have enough to register for a new year, even if I could raise the money I owed," she wrote in her book.


Six years after dropping out, Tumi returned to complete her degree.


Tumi Morake Book
Tumi Morokae released her debut book,
And Then Mother Said…
, in September 2018. She dedicated the book to her mother.
Tumi said the book was not a biography but a collection of her life's memories. She addressed the ups and downs of her career and personal life in the book. She talked candidly about her
race row on Jacaranda FM
, the car accident that almost claimed her life, her near divorce, losing her mother and her son's brush with death.
She also revealed how she was raped when she was 15 years old.

"He broke me, he ripped me, I bled. When he was done my eyes were stinging from sweat and tear... No conversation. No apology," she wrote about the university student who raped her.


Tumi Morake Husband
The couple has had their fair share of ups and downs but regardless of what happens they always respect each other.


"One thing that I do enjoy when I argue with my husband is when we call each other babe but we still fighting," she said on Jacaranda FM in 2017.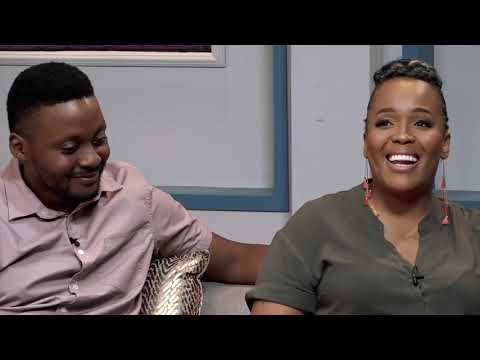 Tumi Morake Wedding Pictures
Tumi Morake and Mpho Osei Tutu got married in 2009. They will celebrate their tenth wedding anniversary in November 2019.


"To have loved and grown with you. To have chosen each other through all the challenges. And to still be hustling and winning together in this mad industry. I love you," Tumi wrote on
Instagram
while celebrating their eight-year wedding anniversary.
The couple has shared several wedding pictures on their social media pages over the years.


Tumi Morake Children
Tumi Morake has three children, Bonsu, Lesedi and Althea. She credits her mother with helping shape her parenting style.


"My mother's ability to take knocks made me feel like struggles are a natural part of life, not a debilitating phenomenon meant to break you. She made me a mother who can laugh with her kids and still be seen as a disciplinarian. Through her, I know the importance of my children seeing me at my best and my worst so they can be less hard on themselves when they face life's challenges," she told Jet Club magazine in 2018.


Tumi Morake Weight Loss, Diet
Tumi Morake has inspired many women with her incredible weight loss over the years.


"A couple of people have come up to me and said: 'Oh my gosh, how did you lose weight so quickly?' I didn't lose weight quickly! I actually started working out around July last year and only started seeing results this year," she told Destiny magazine in 2015.


Tumi admitted to trying bad diets without consulting her doctor but started making wiser food choice after doing some research.


Tumi Morake Car Crash
Tumi Morake and her family were involved in a
serious car crash
in December 2017. The family was on the way to Sun City in the North West when their Jaguar F-PACE was involved in a head-on collision. They all survived the crash.
"There were airbags all over the place and my kids are traumatised but I thank God every day that no one was seriously hurt," she said on Jacaranda FM.