Nail fashion is big this season – has been for a while actually. And so for the nail polished obsessed, I have found the secret to long-lasting, fabulous looking nails.
Enter the Gelish Manicure. It's like a normal manicure, only supercharged! Gelish is applied to your nails as you would any other polish but is cured under a LED lamp so that it stays put for three weeks with absolutely no chipping or peeling. 
While most salons offer Gelish on their menus, my salon of choice is Miss Salon London in the Morningside centre in Johannesburg. It's pure girly heaven. Comfy chairs, friendly staff, a rainbow of polishes, shoes and accessories (all available for purchase) adorn the walls of the salon. There's even a TV which plays reruns of Sex and The City, Keeping up with The Kardashians, Fashion Police and more! Plus there is free champagne on offer so why would you not say yes to a visit!
My nails tend to be brittle and break easily but that's exactly why a Gelish mani (R270) is so perfect. All in all the application lasted just short of an hour. From the usual filing and buffing to exfoliating and moisturising, the whole experience is pretty much what you'd expect. I selected my colour of choice from a range of about 50 colours. I opted for Ready To Wear Red – apparently it's a favourite of Rihanna's!
My Gelish mani lasted just shy of four weeks and let me tell you, I've really put it to the test! It just so happened that in week two of my mani I decided to do some DIY around the house. The Gelish survived a little gardening and even an afternoon of painting.
I'd heard some terrible complaints about Gelish leaving nails even worse for wear after application. Like all fake nail applications, Gelish has to be removed properly and with care otherwise your nails will rip and tear. If you're impatient (like myself), you can always visit your nearest salon for a quick soak off, although this will naturally come at a cost. For easy at home removal try the following:
Place cotton wool soaked in nail polish remover over each of your nails

Wrap each nail in tinfoil for 10 – 15 minutes

Remove - the gel should quite easily come off from your nails

Use a buffer and gently buff your nails

Finish off with a dollop of hand cream and voila, your nails will be as good as new.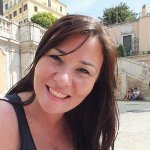 Author info: Lauren Lee Fischer
Lauren is the online editor of ZAlebs and, needless to say, has an interest in everything famous and fabulous in Mzansi. When she's not sipping tea with her friends at Contessa's Tea Shop, you can find her browsing the shelves at the nearest bookstore or baking up a storm in her kitchen.