The Port Elizabeth beauty performed Alicia Keys' hit Fallin' on Sunday. Gareth said: "I felt that this evening your vocals weren't great and I felt that you were a little uncomfortable." He added: "I'm worried about you."
Earlier on this morning ZAlebs spoke to the now former SA Idols contestant to hear her opinions about the show and her last performance.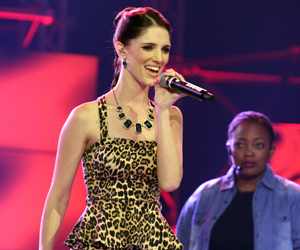 Hi Christina, welcome to ZAlebs and a huge congratulations on being able to stay in the competition for this long.
C.W:  Thank you guys such a pleasure to talk to you guys.
ZAlebs:  During your Sunday performance Gareth Cliff commented on you coming across as being uncomfortable on stage.  Would you say that you were uncomfortable that night?
C.W:   I actually was uncomfortable, people might not be aware of this but at the beginning of the song I actually missed my starting key.  The music was too soft in my ear piece so I began panicking a little and I didn't want to start the song all over again so I just dived right into it and began singing.  At the beginning I will admit that I was a bit off but I just rode the wave and did what I could do with what was given to me.
ZAlebs:  When performing on stage you really do come across as someone who has the whole package with regards to being a Pop artist.  As your own critic what do you think is lacking in your whole package and how can this lacking factor be improved upon?
C.W:  I'd definitely say confidence.  I think confidence is so important for an artist especially when considering all the comments you receive from not only the judges but also from the media and public.  You need to be confidant in yourself and do what you love.   I think that was always one of my problems, I always doubted myself in the competition.  Either than that I think I could also improve on my vocals as a singer you should always improve on your voice and that also just comes with time and experience.
ZAlebs:  Coming from P.E how difficult is it to establish a musical career there?
C.W:   It's actually very difficult and considering the fact that P.E is very small and it's a given that everything happens in Joburg.  So to have received this opportunity is amazing and to be in Joburg and learn all these aspects of the music industry is great.  I'm also considering moving to Joburg for obvious reasons with regards to my career so I will be going back to P.E to sort things out and from there are on who knows.
ZAlebs:  If you were given a record deal today and had to choose to record a collaboration single with the either top 10 contestants who would you choose?
C.W:  I'd choose Benjamin, I really like Ben's voice.  Ben's voice is very unique and I really think we would sound great together because he kind of compliments my vibe and sound.  I'd say that we also have common interest when it comes to the type of songs we like.  So Ben would be a definite yes for me.
See Christina's performance below:
About Christina:
Age: 21 
Hometown: Port Elizabeth 
Occupation: Singer
Biography: Christina is one of the three P.E performers who won Golden Tickets at the special Algoa FM auditions in P.E. this year. 
This week the top six will have Chiano Sky as their mentor and Somizi as the choreographer. Let's hope the Showstopper Theme brings back the fire for the final contestants. 
We wonder when the judges are going to use that save? Maybe they are saving it for Bunny or Brenden.