South Africa's most celebrated band, Freshlyground continues to make great music not only for South Africans but for the world also. With their North America tour about to kick off soon and their appearance at the 2015 MTN Bushfire Festival, ZAlebs just had to have a sit down with one of its members - Josh to hear how the preparation of the festival has been coming along.
Freshlyground are performing at The MTN Bushfire Festival, how are the preparations going so far?
Our MTN Bushfire rehearsals are underway and as far as I'm concerned, it's all systems go on our side. In the midst of that we're still writing songs and throwing a few ideas around for our live performances. The MTN Bushfire Festival is always a really interesting festival to perform at, it's also a great venue with great people in attendance. I also enjoy that there's a lot of social workers who attend the festival just to ensure that they educate people about the social issues around the world.
Where are you guys deriving inspiration from to write these songs, especially considering your hectic schedules?
We're really inspired by everything that occurs around us and also the things that happen in our own lives and other people's lives. However, accessing creativity is about trying to get into a zone where you're not really concerned about what happens next, what you're really trying to do is get into a state of flow and that's how we as Freshlyground get our inspiration from.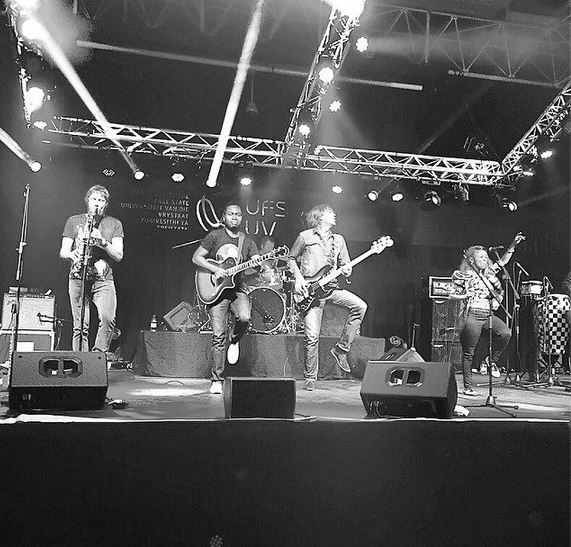 In June you guys are embarking on a North American tour, tell us more about that?
Yes! We're embarking on a three-week tour to the States and Canada. We really have some awesome gigs lined-up in both countries. Freshlyground will be performing in great cities like San Francisco, Philadelphia, Boston and New York, plus later on in the year we're also attending the Montreal Jazz Festival. So yeah, we're just all over the place. The cool thing is we enjoy every single festival we attend, whether it's the Montreal Jazz Festival or the MTN Bushfire Festival.
What's the coolest thing about being one of the most celebrated bands in South Africa?
I think it's definitely travelling and meeting new people, we never get tired of that. Interacting with people of different backgrounds and cultures really opens up your mind and sends a lot of preconceptions about people out the window. Receiving accolades for our music is also cool.
Zolani looks amazing right now with her new take on health. Is the rest of the band also following suit?
To be honest with me I never know who's on a diet in the band lately because there are times when we're all just eating our own stuff, but sometimes you will see one or two band members eating fruits and staying away from carbs, but Zolani is a machine, when she gets into that mode, she really invests in her health, she's got radical will-power I must say.