When watching your favourite reality shows (like SA Idols) do you ever wonder to yourself who on earth is behind these awesome shows?  Well, there's obviously not just one person behind each of these shows, but there's usually a team who collaborate to make magic together. We spoke to one of these magicians this week, an exciting PR Lady who has made our television viewing pastime one enjoyable experience.
We first met Nomphelo Ndzimela during last year's SA Idols finale, at the time we obviously didn't know who she was, but what caught our attention about her was the amount of "well-known" people who swarmed towards this lady for either a light conversation or a simple hug.  Now we fast forward to 2014, we now not only know her name but know that Nomphelo is the Publicity Manager of local interest channels such as Vuzu, Channel O and Mzansi Magic.
The ZAlebs team managed to sit down with her after a fifteen minute long phone-call where we were trying to coerce her to have an interview with us:
"But guys, I believe the role of a PR person is to be behind the scenes and not in the spotlight." She said.
True, but we also believe those who work tirelessly behind the scenes deserve a bit of recognition from time to time.  And so here we are sitting down with the lady for a one on one session.  
Industry peers know exactly who you are and what you do, but for those who are not quite sure, what does Lelo do and what does being a Publicity Manager of local interest channels entail? 
Well Lelo is a publicist; I'm responsible for helping put these amazing people and shows in these publications you see on a daily basis.  Currently I handle the publicity for Vuzu, Channel O and the Mzansi Magic channels.  In a nutshell I help our presenters and our channel faces become relevant people in the media.
We have a lot of readers who are avid fans of all three channels,  can you just let them in on how magical it is to work for all three channels?
Channel O and Vuzu are labelled as the FUN channels, which is true. It's one of those working environments where you get to act twenty one again and just wild out.  Then you get to the more serious channels like Mzansi Magic where you work with well-established industry giants like your John Kani's.  So for me it's quite an interesting balance because at one point I can be youthful and use phrases like "turn up!" and then I get to channels like Mzansi Magic where I get to actually act my age.  So it's a splendid mix, it's definitely the best of both worlds.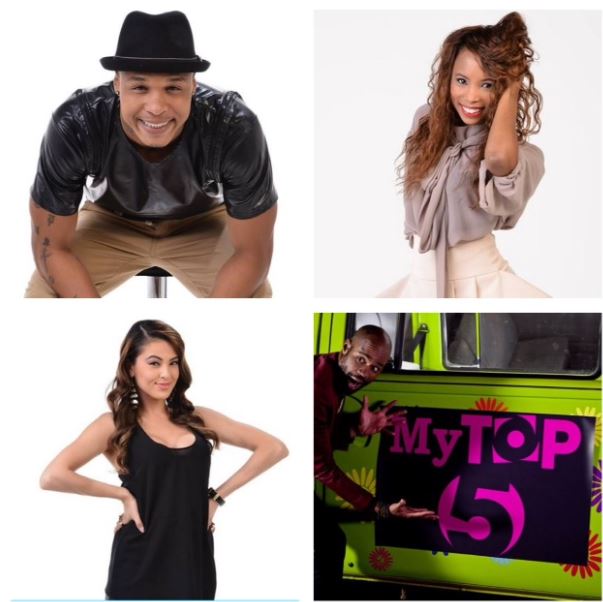 Your job involves a lot of variety in it, does being a publicist ever become tedious, especially when it concerns the talent because you find some people want to be like the next Scoop or the next Dineo Moeketsi?
I think it honestly boils down to when we do actually scout talent.  In television you always try to find that new best thing or talent but in some cases those people who are trying to branch into the industry will always identify with somebody who's already in the industry and you can't blame them for that.  
So yes, it happens that people who are starting out in the industry lean towards a certain celebrity or a certain personality but I think what we do, which works best for us is that when we have new talent we always sit down with them and ask them what exactly do they want to do with the channels and brands they'll be affiliated with.  The talent needs to know and understand that they have a separate identity to that of the other industry peers that they aspire to be like. So as a publicist you need to always find a way that can make that specific person different from the next.
We don't know if you'd want to answer this question, but who has been your favourite client to work with?
Wow! That's a bit of a tricky one.  Honestly, every single human being that has worked for each of those channels since I began working for M-net has been my best work.  There are quite a lot of them so it would be unfair to pin-point one person.  I'm very proud of all that they've accomplished thus far.
As a publicist when your client does something very silly that gets them on the front page news in the morning, what's the first thing that comes through your mind?
You know, one of the things I like about being a publicist is the crisis management.  I thrive in crisis, I absolutely love it so what I do is I call the person and ask them to tell me the exact full story of the incident and then from there I ask my client how they want to approach this incident. It's as simple as that; for me, honesty is the best policy, so when I get the story from the horse's mouth it makes things much easier.  But also, there's ways of telling the truth and those are the tricks of the trade which I can't reveal.
You play a very significant role in the creation of SA Idols too, people know what the show is about. But what's that one thing you'd like to tell our readers about the show that they have no clue about?
A lot of work goes into that show, from the production team to the actual contestants themselves, there's a lot of gruelling hard work that is put into making that show become what it is.  These contestants work extremely hard; don't let the end product fool you.  I remember watching Zoe and Sonke from last year just panicking and trying to learn the words of their songs hours before the show and then seeing them perform with such ease the exact song they were panicking about. It's actually quite awesome to watch.  I just want to emphasise that there's a lot of work that goes behind that show.
You've recently decided to pursue your own PR company tell us more about it?
My company is called Hot Head Media, it's actually been around 2012 but obviously because of my commitment to my current job I couldn't really be active under the company, so when I took the decision to go freelance I realised it was time for me to resurrect my baby.  I'll be doing what i've done for the past eight years for M-Net but now for myself.  I also do have a few people being represented by Hot Head Media such as the likes of YBK, Mbali Mlotshwa and Yolanda who goes by the name "Bhelz" very talented young lady who is a musician and actress. She was originally cast in the Lebo Mathosa play but then she became injured and that's when Khanyi Mbau came in.  So that's my latest pride and joy right now.