Just three days before his second album gets released, ZAlebs had the opportunity to attend J.Cole's listening session for what we consider as his most experimental and honest album yet.  
Released exactly a year after his sophomore album Born Sinner, J.Cole not only surprized fans with the announcement of his third album titled 2014 Forest Hill Drive but he also offered 400 of his lucky fans the opportunity to win a spot at J.Cole's childhood home, 2014 Forest Hills Drive, to listen to the new album before its 9 December release date.
Unfortunately, those who didn't win a spot for the listening session expressed their grief in numerous not forgetting hilarious memes.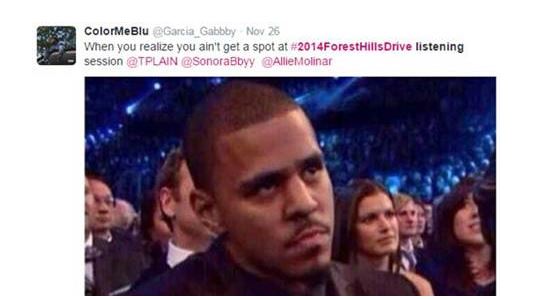 Shame it was really rough for some J.Cole fans hey....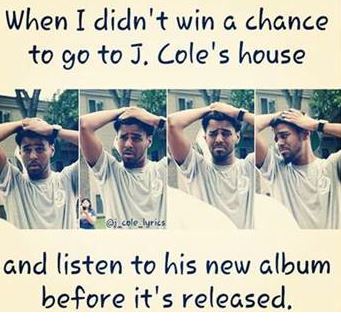 Some even had to express their disappointment through a series of tearful memes.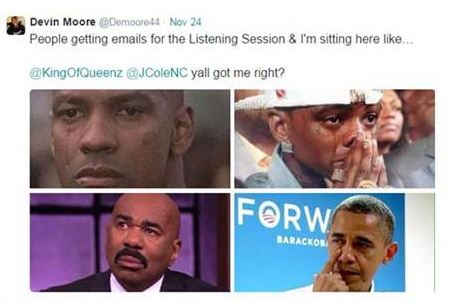 Our listening session was held at the Sony Music offices as we got introduced to a 13 track album that encompasses a very mature not forgetting opinionated J.Cole who touches bases on how he has finally been able to break free from the façade that comes with being famous.
We could tell that J.Cole was going to take us on a conscious journey from the get, as we listened to the intro and second album titled January 28th with words like "Do you wanna be free" and "If you believe in God" you can tell J.Cole is holding no bars, opening our eyes to the fact that not everything that glitters is gold.
Cole then becomes a complete open book especially with one specific track titled Wet Dreamz. A descriptive song about his activities leading up to the first time he engaged in sex. Many young men will relate to this song.
Cole speaks on how during his teenage years he used to boast about the many times he had sex when in actual fact he didn't even know how to put a condom on. Cole even goes to the extent of describing how many times he watched porn just so he could get it right when the time finally came.
G.O.M.D (Get Off My D…) is another track we think will cause quite a stir on the airwaves, the beat is just infectious, Cole has a lot of thought-provoking lines on that song too, a club banger but also one of those songs that will have you thinking about the current state of American hip hop.
Another track we're excited for people to hear is a song called No Role Modelz a gritty yet beautiful oath to Cole's celebrity crushes
"My only regret is that I was too young to date Nia Long."
"My only regret is that I couldn't take Aaliyah home."
 What's interesting about this song is that Cole also throws a jab towards reality show celebrities, pointing at the fact that there are no celebrities worth having a crush on anymore. Instead kids are now left with dumb reality show celebrities who have absolutely nothing to offer.
J Cole's album officially gets released next week Tuesday. When you finally have it let us know what you think on all of our social media platforms