This week we spoke to Isidingo's newest actress, Noluthando 'Nolly' Meje who chatted to us about the new role as well as her advice to future SA Idols hopefuls.
It's been a few months since it was revealed that you're joining Isidingo, how has the reception been in the time since? 
It's been a true blessing the viewers have given the Zondile's a warm welcome.
How different does it feel to be acting in a daily soapie as opposed to having a talk show or being a presenter? 
Firstly in the one I was presenting and this time around I'm acting, the difference is all in the preparation process for the role.
In an interview a while back you mentioned that you enjoy being cast in comedy roles. Is it challenging to adapt to a more serious-faced role (Like Isidingo)? 
When it comes to acting, you know that you are there to play various roles within your career. Adapting is no challenge, you just need to allow yourself to get into it.
You've entertained the country as a singer (Idols) a presenter (Keeping it Real) and now you're an actress on a leading soapie; how much love are you getting right now, and how are you enjoying it all? 
I was quiet for a while as I was shooting other things and now that I'm back on screen people were curious about my role, I'm loving it.
Speaking of Idols, the new season is upon us! How much has the show changed since you were on its second season? 
I actually haven't watched much yet but South African talent is outstanding.
Is Idols still a big enough platform for an aspiring musician? We saw Heinz do VERY well after winning the first season, but in recent years we haven't seen too many winners go on to make as big of an impact in the music industry. What do you think? 
There's a platform for aspiring musicians but it's up to you what you do with it, you find that those who never made it to the end seem to be doing well in the entertainment industry.
We all love our wooden mic contestants, but what advice do you have for the hopefuls who want to go far in this competition, and any like it (X Factor coming later this year…) 
It's a journey that you need to experience it won't always be a good one nor will it go according to what you want. Make the most/best of it but don't lose yourself in the process. Your dreams are your dreams; don't get caught up in the hype.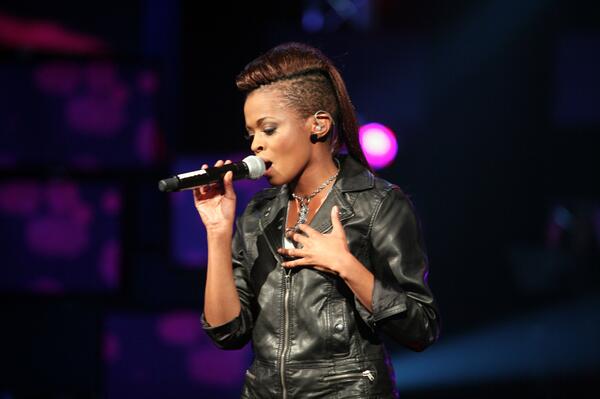 You've always been a busy body in our industry, what else are you working on this year? 
I tend to work in silence and let my work speak for itself, I don't share my plans but God knows them.
Women's month is almost upon us, what key message do you hope to see celebs such as yourself sending to the ladies of Mzansi? 
Don't doubt yourself, respect yourself and love yourself. God first hunnies. 
Do you think local female celebrities do enough to send positive messages to young women in Mzansi? 
We try, but the media tends to portray us in a bad light and by the time we want to send positive messages it's too late to get through to them. 
We can't end the interview on a serious note; here's a couple of light questions to sign off with: What did you have for breakfast today and what would you have preferred to have? 
I had boiled eggs, I love them as they are healthy.
What was the first CD/Cassette/Record you ever bought and would you still listen to it now? 
My mom bought us Toni Braxton ( Cassette) & Alanis Morissette (CD) 
Which fashion item must be left in people's closets and never, ever worn again (For us it's jeggings!) 
You know what? Its items that don't fit our bodies anymore! We need to let them go and not rock them in public.