Called The Big Banquet in a Little Jar™, this delectable range of pestos arrived just in time for my husband's birthday party.
I had been sent a range of Pesto Princess products to sample, a perfect addition to the cocktail snacks and finger food on offer at a birthday party I was planning.
There are six flavours in the Pesto Princess range:
Basil – the classic - rich and aromatic, perfect for tossing with plain pasta
Red – with red peppers - sweet and spicy - a favourite with the tweens
Greek – with olives and feta - rich and creamy - my favourite in the range
Rocket – with walnuts - great blend of flavours - and a hit with the party guests
Olive – with aubergines - olives are a great ingredient for pesto - and a great pasta topping
Thai – with coriander and chilli - just enough of a bite to make it interesting - great on French bread with mozzarella.
How do you use pesto? 
Pasta: dilute and toss through cooked pasta
Sandwiches: use as a spread
Soups: stir a spoon through soup as you serve
Meat dishes: top with pesto before baking or grilling
Pizza: spread on bases, or drizzle (diluted) as you serve
Salad dressings: make your own with olive oil, balsamic, and lemon juice
Breakfast: add to scrambled eggs or omelettes before or after cooking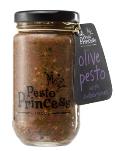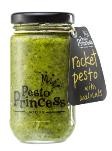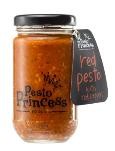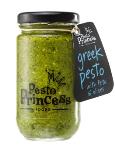 The story behind Pesto Princess
About 14 years ago, Kathleen Quillinan - an opera singer at the time - began selling fresh sauces made in her home kitchen, as a creative way to fund her singing career.   
Pesto was quite new to South African palates back then, and people were thrilled to discover the fresh flavour, revealing to Kathleen that it was possible to create a business with pesto as the signature product.
And so it came to be that she laid her singing career to rest and began a new adventure, with plenty of its own theatricality! With the support of loyal fans over the last 14 years, Pesto Princess has weathered the challenging journey from market to supermarket, and today continues to nourish, comfort and delight people through food. 
No preservatives 
Pesto Princess products have no added preservatives, no animal rennet, are not pasteurized, keeping all nutrients intact, selected products are dairy free (red and olive), garlic free, and nut free, options available on request. 
All products are handmade by their factory princesses (many of whom have been with us from the very beginning), using fresh ingredients from local farmers, many of whom farm on a small scale. 
And you'll find you can stand a spoon straight up in them!  This is because they're sold as concentrates, in keeping with the Italian way of making pesto.
Pesto Princess stockists 
Western Cape: Pick n Pay, Checkers, Food Lover's Market (Fruit & Veg City), Spar, Melissa's The Food Shop, Selected Delis 
Gauteng: Pick n Pay (selected), Checkers (selected), Spar (selected), Selected Delis
Kwa-Zulu Natal: Pick n Pay (a few selected)
Palace contact details:  
Review by Sasha Wyatt-Minter