Hip hop artist AKA took some time off from his busy schedule and subjected himself to Zulu custom.
On Sunday he was accompanied by his family to pay damages at DJ Zinhle's home in Dannhauser, in the north of KZN.
We have all read the media reports where DJ Zinhle's uncle, Mbongeni Jiyane, was spitting fire at AKA for dragging his feet to pay damages for impregnating DJ Zinhle.
Well, all of that is now water under the bridge because AKA has paid what he owed the family.
DJ Zinhle's uncle confirmed the news.
AKA had to pay two cows and one goat. He paid cash for the second cow, while the other two were paid in livestock.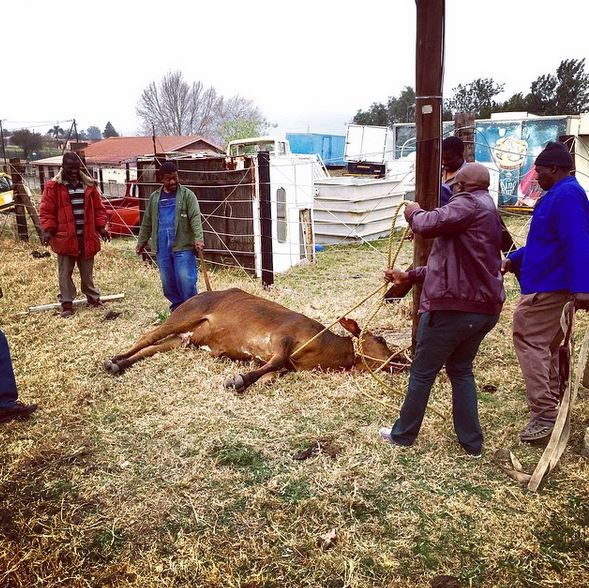 "On Sunday we had a great day when the father of my grandchild came with his family to pay the damages for impregnating Zinhle. He paid one cow, one goat and cash for the second cow, I am happy that he respected our tradition as the Zulu family," Jiyane said.
Neighbours of DJ Zinhle in KZN were star struck seeing the couple together in their hometown.
When the family had discussed their matters internally, neighbours were allowed to have a traditional meal with them.
An excited DJ Zinhle's uncle added that everything went well and he was happy to have finally met the father of his granddaughter for the very first time.
In a recent interview with Jacaranda FM, AKA spoke fondly about fatherhood and how he enjoys spending time with his daughter:
"I really enjoy those kinds of things, I really enjoy feeding my daughter, playing with her, sometimes it's kind of boring playing with her because she can't say anything, she can't even smile. She just, pees, eats and sleeps, but I didn't think I'd learn things about myself from having a daughter and I'm embracing it.  For me, I enjoy those things because as you progress in life it's the little things that become more important. So for me it's the little things like spending time with my family, spending time with my daughter and that's just a part of me that's growing up.
For the rest of the interview click here
When AKA was contacted, he refused to comment.
DJ Zinhle's phone rang unanswered. However, her business partner, Nomndeni Mdakhi, did not deny the news.
"Please be advised that this is a family matter and DJ Zinhle would like to keep it private," Nomndeni responded.
Credit image: Instagram