DJ Zinhle and AKA have always made it their mission to keep their relationship private. For a long time, nobody could even confirm if the two were dating, especially since they were always quite cryptic with their picture uploads!  But now, the lovers, who are expecting their first child together, are ready to share their story with SA. 
In an interview with Destiny Magazine, Zinhle said: "We've been private about our relationship because we wanted it to be something sacred between the two of us. I also think my brand is all about inspiration and I haven't really figured out how knowing who I'm dating would inspire anyone."
According to the mag, Zinhle first mentioned the baby subject to AKA last year. The rapper responded with:
"Yes, you're my girl, I will never find someone else like you, so let's do it. Just tell me when." She added that they were supposed do it last year, but work got in the way.
ALSO SEE: DJ Zinhle and AKA FINALLY take a picture together and confirm that they are having a baby this year. 
The couple reportedly met in Botswana in 2012. Zinhle recalled: "I remember him saying, 'Stop being so stuck up, just come out with us,' as he convinced me to hang out with him and his crew that night. We got stuck in traffic for a while as we were exiting the concert venue. He saw how frustrated and cold I was and gave me his jacket to wear." The stars, who at the time wouldn't have known that their relationship would lead to so much chatter, ended up chatting until 4am and went for breakfast. "Afterwards, he asked if he could call me," she told the mag.
AKA confirms that DJ Zinhle is pregnant in Instagram post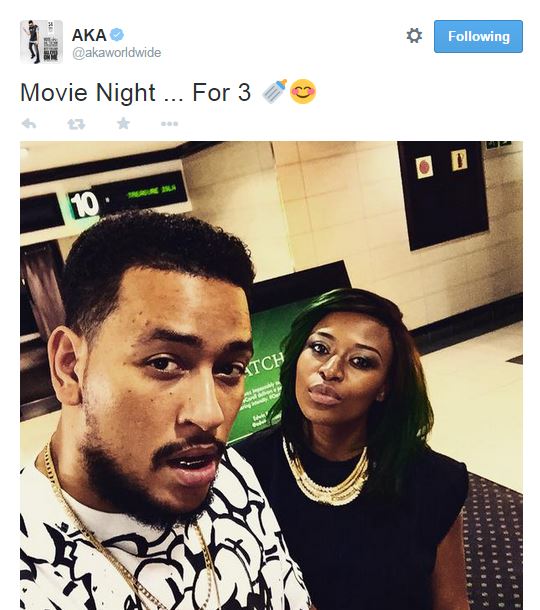 After convincing her to give him a chance, the couple became exclusive. Zinhle revealed that she met AKA's mother after six months.
She's described the rapper as a sweet person and also shared his excitement about the baby. "He is so excited about the baby – I'm so proud of him and how he's handling this."
Is it too early to say that Zinhle and AKA are officially the hottest couple in Mzansi entertainment? Are they the new "It" couple? Leave us your thoughts in the comments section below!