The sensational Khanyi Mbau's family tree is quite big and extensive. She was mostly raised by her grandparents, and she has a good number of siblings from her father's side.
Here is a look at Khanyi Mbau's family, from her parents, grandparents, siblings, children, and even her current boyfriend. Even if you are not a huge fan of Khanyi, we believe that you will love her after meeting her family.
Khanyi Mbau's parents
Khanyi was born on 15th October 1985 to Lynette Sisi Mbau and Menzi Mcunu. When she was born her parents were unmarried. She was named Khanyisile meaning "one who brings light" and she chose to keep her mother's surname.
Khanyi Mbau's mother Lynette was a finance officer at Barclays bank's department of the pension fund. Khanyi Mbau has always expressed her respect and love for her mother whom she owes for how her life turned out.

Khanyi Mbau's father Menzi Mcunu was a business with significant investments in the taxi business. He passed on in September 2020 following COVID-related complications.
Khanyi Mbau's grandparents
Shortly after her birth, Khanyi Mbau's mother returned to the workforce and left Khanyi with her grandparents in Mofolo, Soweto.
Khanyi grew up in her grandparents' homestead and was mostly raised by her grandmother Gladys, who she often affectionately refers to as the "Queen of England" because she kept her household running with decorum and order.
Not much is known about her paternal grandparents and it is highly likely that the vibrant socialite didn't have a close relationship with them.
Khanyi Mbau siblings
Khanyi Mbau's family tree includes several siblings from her father's side. Her two most prominent two siblings are a brother called Lasizwe Dambuza who is a sensational Youtuber and actor, and a television star, and a sister called Thandenka Mcunu who is a businesswoman.
Khanyi is pretty close to her siblings and they made an appearance on her BET reality show Mbau Reloaded- Always Rise. In one episode titled "A Family Affair," the siblings including Lungile, Mbali, and Siphiwe, all meet up and vacation in Cape Town.
Here is the video of the siblings interacting with each other.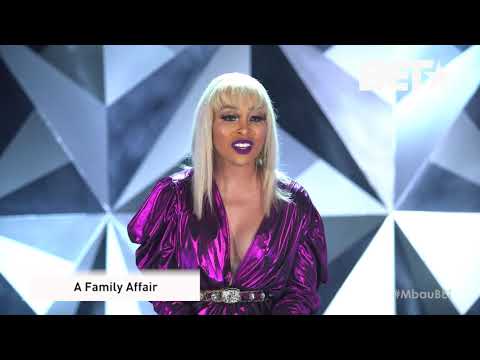 Khanyi Mbau's daughter

Adding to her long list of titles as a daughter, granddaughter, and sister, Khanyi Mbau is also, more importantly, a mother.
Khanyi's daughter is called Khanukani and she was born during Khanyi's marriage to Mandla Mthembu.
The teenager who has stunning resemblance to her mother apparently lives in her own apartment next to her mother's house. Khanyi, who is quite the model liberal parent, disclosed that she lets her daughter do what she wants to do as a way of moulding her to be independent.
Khanyi Mbau's boyfriend
Currently, Khanyi Mbau is in a serious relationship with a young Zimbabwean millionaire called Kudzai Mushonga.
The two lovebirds who seem perfect for each other have been together for a little over a year and they have been setting some serious couple goals that are hard to beat. The two got each other's name tattooed on their bodies.

Although Khanyi and her beau have not revealed if they plan on getting married anytime soon, fans are definitely dying to see them walk down the aisle and see Kudzai officially join Khanyi Mbau's family.