When it comes to love, there are no boundaries and we are constantly reminded about this by the different couples who feature on the show every week.
Bathabile, 31, is black and Dhiren, 26, is Indian. We can only imagine how many scorns and stereotypes this couple had to defy to be together. We definitely salute them for celebrating their nuptials on national television.
Given their diverse backgrounds, Dhiren and his beautiful bride had a beautiful multicultural wedding celebration. The couple prefaced their celebration with a Hindu cleansing ceremony, which was quite interesting to watch if your knowledge concerning the Hindu culture is challenged.
Usually, people are advised never to opt for Indian or Chinese shops if they are preparing such events because most of the time they end up begging for mercy from the gods of fashion. But this bride was left with no choice, she bought her Sari in a shop which was more or less like an Indian bazaar. Fortunately for her, the dress didn't look like a reject as expected and Bathabile also got a mehndi to complete her Indian bride look.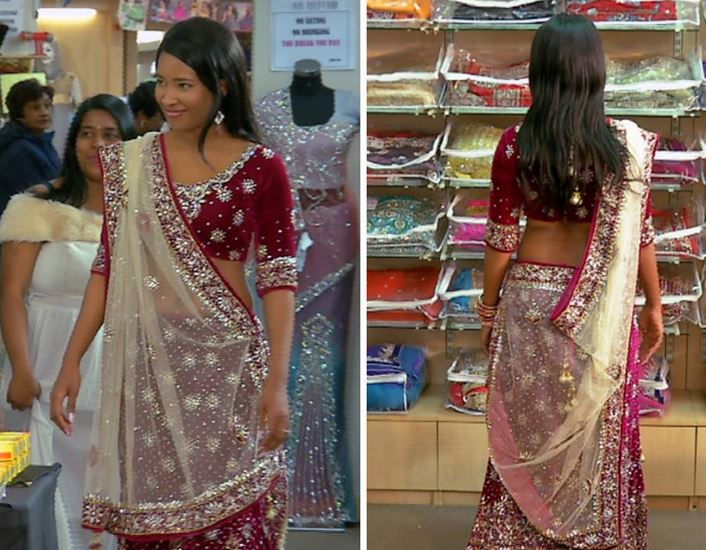 For some reason, we couldn't help but notice that Dhiren seemed a bit oblivious during the wedding preparations and this was proven when he introduced a hobo lookalike as his groomsman.
Before & After, when Les became DaLes 😆 #OPW #opwmzansi pic.twitter.com/7vlV1iSz0N

— Mdladla (@ndixn) September 6, 2015
Is it me or the groom's friend Les looks like Mr Bean #OPW pic.twitter.com/HEXvbMS8g1

— Nkanyezi Kubheka (@NkanyeziKubheka) September 6, 2015
#opw #opwmzansi our perfect scooby do pic.twitter.com/VgalnzL76O

— * (@iammarvin_xo) September 6, 2015
We fail to understand why Dhiren didn't advise the man to look a bit decent for the programme and also assured him that he will go back to his riff-raff look immediately after the cameras are off? As if that wasn't enough, Dhiren chose oversized and shiny suits for the groomsmen. Whoever still wears a shiny suit should be charged double on e-tolls and taxed ten times higher.
The bride had anticipated a beach wedding, but, unfortunately, the weather didn't favour her. And we think the rain might have affected the couple's happy spirit because they didn't seem enthusiastic during their wedding vows, it's like they just wanted to wear the rings, kiss and get it over and done with.
We absolutely loved the reception, the chandelier cake was the ultimate. We also liked the fact that the wedding wasn't crowded and rowdy. We know people love big weddings, but a large crowd means digging deeper into your pockets, unless you are not bothered by guests who go back home on an empty stomach and label your wedding as the worst in history.
The bride and groom looked beautiful in their traditional regalia to a point Bathabile resembled Aishwarya Rai.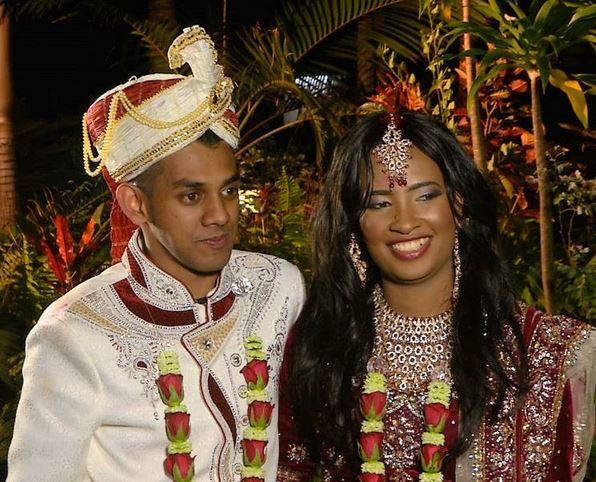 How can we forget their cute daughter! Bathabile should have her child featured on a diaper advert!
Bathabile and Dhiren had an intimate and beautiful wedding - we will give them a seven. Dhiren has to be blamed for sacrificing the other three by choosing wrong suits and not advising his friend not to wear dirty clothes.
Image credit: Facebook