Phumlani, 36, and Patience, 26, met while they were still teenagers. The couple took a while before they had their white wedding after paying lobola. The period between the paying of the lobola and having a white wedding isn't a big deal to us as it was clear that the couple did some thorough research and planning for their beautiful wedding.
This is what we loved about the wedding:
The perfect bridal gown
Patience really lived up to the bridal gown expectation and also lived up to the standards of how a white wedding should look like. She looked absolutely gorgeous in her dress which accentuated her curvaceous figure.
Groom looking good in his Italian suit
Usually, the groom's suit is a challenge in most weddings we have witnessed on the show, but we must say Phumlani managed to impress us. The groom looked dapper in his Italian attire. In all honesty, we don't care if a groom is wearing an Italian or Chinese suit as long as he wears the suit well, we're happy.
Bridesmaid dresses we were actually happy with
Shocker! We usually don't say this, but the bridesmaids were dressed beautifully. Their outfits not only made them look chic but sassy at the same time.
However, we couldn't help but noticing that the ladies were carrying loofahs instead of bouquets, obviously it's something unusual and just because we never witnessed it we are not going to say it's wrong because after all they still managed to look beautiful.
Groomsmen in Orange
Even the groomsmen weren't half bad. Their tan suits were nice…yes…nice was the only word we could use to describe the suits and their orange waistcoats were rather bright, but because it was part of the colour scheme, we'll let it slide.
There were some challenges concerning the wedding venue for the matrimony, but we loved the idea of a garden wedding. The set up is a risky one, especially when you take into consideration the weather forecast, but nonetheless proved to be successful.
The décor was absolutely stunning. Orange is not really a colour we have seen people taking chances with but this couple managed to convince us that it can actually work if done right.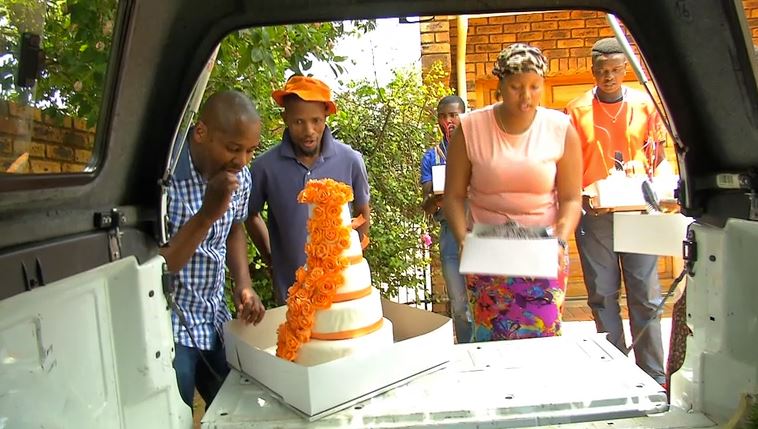 The cake also stuck to the theme with white and orange decorations. But unfortunately, it didn't get to stand throughout the entire celebration after the MC mistakenly knocked it down.
It was a very unpleasant moment, but we were impressed with how the couple handled the matter and didn't lose their minds over it.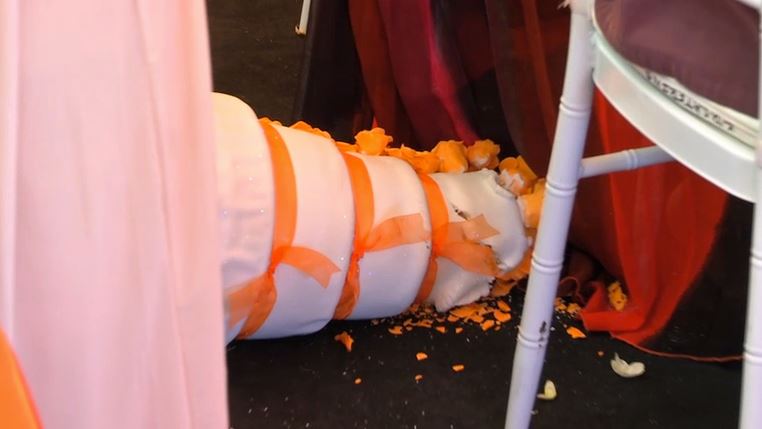 The traditional wedding was also on point. The makoti looked lovely in her Zulu outfit and her entourage wasn't far off the mark either. 
We totally loved everything about this wedding and it's just unfortunate this couple came in when the R10 000 prize from ABSA was no longer in the picture.