Tumi Morake's question on Sunday night's episode of Our Perfect Wedding was, "Would you honestly say, the past two days, were your perfect wedding?" To which the couple erupted in unison, as if for the chorus of a Mariah Carey and Whitney Houston duet, "Yes, this was our perfect wedding!"
This led to my questioning whether any couple would ever respond with a 'no'. I mean, we've seen many a couple whose weddings were just basic and unexciting (Take a recent episode for example; Season 4, Episode 4). However, they also affirmed the weekend to be their perfect wedding, even though their wishlist items weren't all ticked off?
Anyway, let's talk about Sunday's episode; I loved Busisiwe! She is what every woman aspires to be for her husband really – patient, kind, respectful, loving and oh so beautiful with her perfect smile and poise – right? Her husband on the other hand is everything a woman doesn't want – bad teeth, too much hair and that Ridge Forrester jaw. But they love each other and that's all that matters.
The wedding, yet again, basic – after 10 years of waiting, it cannot be basic! I would have loved to talk about her dress, but there's really nothing to write home about, it was white. And the plastic bouquet just made it even less of a focal point. While on the issue of flowers – plastic bouquets are not okay.
There are 3 very good reasons why to never go with a plastic bouquet;
1.       It looks cheap
2.       It doesn't look real
3.       It isn't real
And that's where my dear Busi lost her first point. Then she went on to agree to her husband hiring VW Microbus/Caravella kombis. Can someone explain to me how that is unique or even tasteful? To top it off, the drivers of said vehicles looked like they had woken up from a heavy night of partying and just brushed off the blanket shreds from their hair and came to the wedding to drive people around. They were so unkempt. This lot looked like the original Mageza 8. 2 points gone.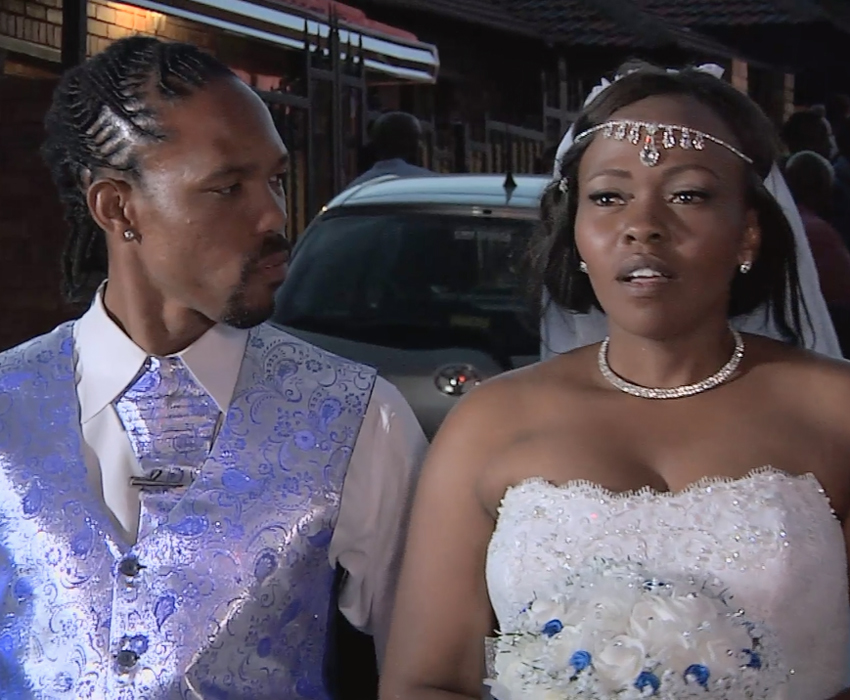 It was sweet to see the groom unable to hold back his tears when he saw his mother at his wedding, but really, shedding a few tears is very different to balling your eyes out – find the balance, fine line. A man crying uncontrollably is very unattractive.
Social media went crazy on Sunday night when the bride seemed a little light-headed or dizzy after they had exchanged their nuptials. She didn't tell us why, but we suspect the morning might have been a little overwhelming for her – which is to be expected after holding your breath for ten years. 
This was one couple that seemed to genuinely be in love. Although their dress sense, colour choice and car choice let them down significantly. I would have loved to give them an 8 out of 10 for effort but there are just things we cannot ignore. I must say they looked amazing in the Zulu traditional attire – had me wanting to marry into the Zulu nation for a minute – and so that upped their score this week to a 6 out of 10.
Loool!"@khayadlanga: Thatha! She says this is her muthi #OPW pic.twitter.com/Tk0XpuzG4t"

— iNkosazan' Emhlophe♡ (@LilMiss_AmO) February 8, 2015
Lessons to take away from this week's wedding;
1.       Style is not freely available – as we have seen in this episode as well as the previous two episodes of  #OPW. Before you make these decisions, play on Pinterest.
2.       The devil is in the detail – we have not seen detail since Season 3. Stop having maid of honours that just dress up pretty – she must work, make sure your suppliers are not doing half-arsed jobs.
3.       If your bridesmaids look hideous – you also look hideous. Ruins your wedding pictures. Make them look pretty.
4.       Do not buy fake flowers! Ever! Mandela did not die for this.
5.       Most importantly, love and respect your husband.
But seriously, when are we going to get a PERFECT wedding on OPW?