Yes, Valentines has come and gone and if you didn't feel the love that day,
Sho Madjozi
offers up another hit to kick start the beat of your heart.
Best known for her lyrical finesse and her ever colourful fashion, Mdjozi brings her fans a story of love and with the timing just right, she thrilled her fans by dropping this little gem on Valentines Day.
Shot in downtown Jozi, the short film is about a rural girl (Madjozi) who has supernatural abilities that she uses, only for the good of Gqom, spreading love and light everywhere she goes. Sounds like someone we could be madly in love with, right?

The short film director, Garth Von Glehn had this to say about the short when interviewed by we-are-awesome.com:


"[The] Bright colours, bold clothes and a quirky aesthetic, making the film truly Sho Madjozi".

Sho, understands how to stand true to her roots and yet still manage to break any industry rules.
If you were hoping to catch her live in concert, you might have to exercise your patience as the Tsonga princess shares her charms with the world and is currently in Charlotte, North Carolina USA to rep for Africa at the NBA All-Star Weekend.
Madjozi is manifesting her Pan-African dreams the right way and her success has coincided with a pivotal moment in not only South African pop culture, but also with a larger trend of youth-scripted narratives.
And with all that influence, it would weird if the rising star didn't make it all the way to the top, as she's been featured on the VogueWorld 100 List.
According to the global publication, the 100 List is a compilation of "a group of fearless, talented individuals who have captured our attention of late and are poised to transform style, beauty, and culture globally in the months to come."
And if Vogue says it, it's gospel.
After having won the award for Most Innovative Style at the South African Style Awards and being featured on the cover of ELLE Magazine (SA) last year, Sho Madjozi shows no signs of slowing down anytime soon.
The trailblazer has used fashion to powerful effect, showcasing Xitsonga culture and defining pop culture through focusing on the importance of heritage, in a modern context.
(Have you heard about her fashion line? Read more here.)
Her fans eagerly awaited her anticipated partnership with Edcon last year, as the baby-faced twenty-something was set to launch her first clothing line. The unique range focused on three lifestyle themes: Chill, Play and Party. Her line has hit twenty-two Edgars Fashion stores, Mzansi wide.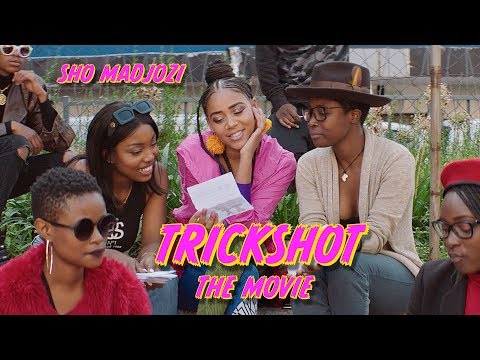 Trickshot
is on Madjozi's 13 track, critically acclaimed debut album "Limpopo Champions League", which celebrates her and her Tsonga culture. The song 'KONA' , in which Sho Madjozi sings that Tsonga people belong everywhere, is an exhilarating affirmation of her Tsonga culture, while the lively track 'Don't Tell Me What to Do,' is fun and talks about being a carefree African girl. Acclaimed Nigerian artist YCee is featured on party track 'Wakanda Forever'.
Don't miss out on any of this Tsonga beauty (and brains) and stay clued up on this mogul's future moves and watch them grow from big to biggest in 2019.
Read more about this rising star:
Madjozi goes international!
Main image credit: The Fader

Guess what? In honor of The River's 17 SAFTA nominations, Showmax and Vodacom are bring back their amazing
3 Months Free SHOWMAX plus 15GB FREE DATA deal
for 17 days! Sign Up Now.