The cat is out of the bag! Award-winning Actress Sophie Lichaba has joined the cast of Mzansi's Award-winning prison series
Lockdown
and this week she spared a moment to speak to
ZAlebs about the series' 5th season
which is now available for streaming exclusively on
Showmax
.
Known for its riveting and suspenseful storylines, unpredictable plot-twists and heart-breaking tragedies, the show always promises a rollercoaster ride and Season 5 of
Lockdown
will be no different.
Lockdown features a stellar all-female cast and is set in the dingy, gritty and cut throat confines of the Thabazimbi Correctional Facility. The series explores the lives of women from different walks of life who are behind bars and where survival is the order of the day.


This season a new personality is thrown into the mix. In 2019 it was announced that Sophie Lichaba would be joining Lockdown's strong roster and we were excited to speak to her ahead of her debut on the show.
Sophie plays the role of Palesa, a nurse at Kgotsong Asylum who is ready to wreak havoc in the facility. Palesa is a nurse with a scar on her mouth and can best be described as a broken woman who is going through a lot after a divorce. Despite this, she still wants to be loved.


Two weeks ago we first saw Palesa on the Lockdown Season 5 trailer where she was seen talking to a new patient in a voice and with facial expressions that will give your skin goosebumps.


She looks as if she is ready to cause more trouble as she lifts a needle and one has an idea of the suspense that grips this exciting storyline.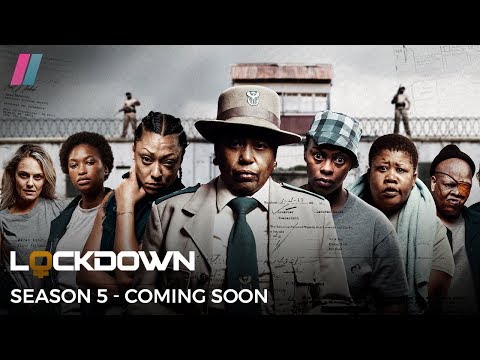 Speaking to ZAlebs about her new character she expressed her contentment and described the new role as a dream come true. She holds great admiration for the talented cast too. Sophie beamed as she said:
"I'm excited to join the show, this season is going to be a rollercoaster ride because they have introduced new characters like me and the storyline has changed a lot, it's been my dream to be part of this star-studded show".

We asked her to delve a little deeper and tell us more about her character, Palesa:


"Palesa is in a space where there are people around her who are not mentally well (asylum patients) and she's nursing a broken heart on top of that. How is she supposed to heal from a husband that still forces her to do bad things simply because she still loves him?".

The star said she is not far from her character in reality because she has also been depressed and sick in life.


Sophie also weighed in on the recent debate about the exploitation of actors which saw veteran actress Vatiswa Ndara penning an open letter to the Sport, Arts and Culture Minister, Nathi Mthethwa, about what she alleged was the exploitation of actors in the industry; including poor remuneration and working conditions.


Sophie said "It's it not a debate about finances but the treatment. It's about understanding and fixing the worst conditions under which our performers have to operate. South Africa's production companies can sometimes be accused of downplaying SA talent; they don't treat them like the kings and queens they are. They don't see their worth.
She said she even had to decline job offers because they didn't value her experience in the industry and worth. Imagine!
Sophie took a moment to touch on her plans for 2020 when she said:

"Of course Lockdown is on top of the list and for me personally restoring myself, my confidence and everything that I do especially my business, I stopped for a little while I needed to regroup and restore my faith I mean who wants to invest in someone dying because South Africa said I'm dying".


Sophie gained prominence and became one of Mzansi's most loved actresses when she starred in Generations as the outspoken Queen Moroka. These days, she balances a career and a family and the star said she is grateful to her family and husband for supporting her and changing their diets to accommodate her diabetic diet.
On a closing note, Sophie encouraged us all to
"Watch Lockdown Season 5 on Showmax
! It's a must-watch and you're going to be waiting for every new episode with eagerness!"
And she's not wrong! From what we already know in season 5, Masebata's cult is no longer power. Mazet and Vivy are still vigorously ruling the yards of Thabazimbi. Governor Deborah Banda is in hot water after yet another death is reported. Monde is trying to mend things with Vicky following her atrocious ordeal and she is none the wiser to her sister being transferred to Kgotsong Asylum.
The next two episodes of
Lockdown
season 5 will be available for streaming on Showmax from this Thursday the 6th of February. You can look out for the official ZAlebs (no-spoiler!) recap on Friday if you're planning on binge-watching the next two episodes over the weekend on
Showmax
. If you don't have an account already, signing up couldn't be easier:
HOW TO GET SHOWMAX:
Sign up for
Showmax mobile
and get full access to the full catalogue on one mobile device for R49PM. Vodacom customers can get
Showmax
mobile plus 2GB data for R99PM.
New customers get a 14-day free trial and then pay R99 per month for
Showmax's standard plan
.
DStv Premium subscribers get
Showmax
free - go to
showmax.com
to sign up. DStv Compact and Compact Plus subscribers pay R49pm.